The State Department approved a potential $126 million Foreign Military Sale (FMS) with the Philippines for dozens of Scout, Assault, and Light Support Boats with armaments.
The Defense Security Cooperation Agency (DSCA) notified Congress of the sale on Thursday.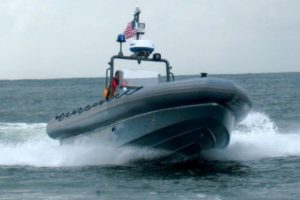 Philippines requested 36 9M Scout Boats; 36 10M Assault Boats; 18 16M Light Support Boats; 156 M240B 7.62x51mm machine guns; 24 M2A1 .50 caliber machine guns; 36 M134D-M, 7.62x51mm 6-barrel rotary Gatling guns and various radios and other equipment.
The primary contractor for the Scout and Assault Boats will be Willard Marine Inc. while the contractor for the Light Support Boats will be determined later via an open competition contract.
DSCA said Philippines will use these boats to improve their capability to meet current and future threats "by force multiplying the Army's present ability to operate and control both inland and coastal waterways of southern Philippines."
Implementation of the sale will require the assignment of one additional US. contractor representative to the Philippines for five years to provide maintenance and logistical support.