The State Department has approved a $380 million deal with Lithuania for six UH-60M Lockheed Martin [LMT] Black Hawk helicopters and a $100 million sale with Argentina for 27 General Dynamics [GD] M1126 Stryker vehicles.
The Defense Security Cooperation Agency notified Congress of both foreign military sales on Monday.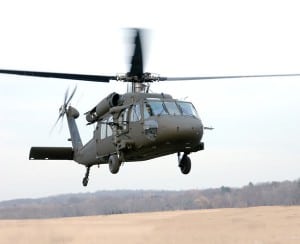 The Black Hawk FMS with Lithuania also includes 14 of General Electric's [GE] T700 engines, AN/AAR-57 Common Missile Warning Systems and M240H machine guns.
"The proposed sale of these UH-60 helicopters to Lithuania will significantly increase its capability to provide troop lift, border security, anti-terrorist, medical evacuation, search and rescue, re-supply/external lift, combat support in all weather. These UH-60 helicopters will allow for interoperability with U.S. and NATO forces in rapid response to a variety of missions and quick positioning of troops with minimal helicopter assets," DSCA officials wrote in a statement.
Under the Stryker deal, Argentina will also receive M2 Flex .50-caliber machine guns, SINCGARS radios and M6 smoke grenade launchers. 
"The proposed sale will improve Argentina's capability to meet current and future threats by increasing operational capabilities and force availability.  Argentina will use the Stryker vehicles to conduct stability operations in support of disaster relief and international peace keeping obligations," DSCA officials wrote.