The State Department has approved a potential $1.7 billion deal with Australia for General Atomics' MQ-9B SkyGuardian drones and supporting equipment.
The Defense Security Cooperation Agency (DSCA) notified Congress on April 23 of the foreign military sale (FMS).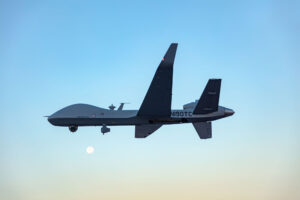 Australia officially selected the MQ-9B as the winner of its Project AIR 7003 program last fall to find its future medium-altitude, long-endurance armed remotely piloted aircraft system, and is set to receive 12 systems under the FMS deal.
"The proposed sale improves Australia's capability to meet current and future threats by providing timely Intelligence, Surveillance, and Reconnaissance (ISR), target acquisition, locate submarine capabilities, and counter-land and counter-surface sea capabilities for its security and defense. This sale will enhance interoperability between the U.S. Air Force and the Royal Australian Air Force," DSCA officials wrote in a statement.
The deal also includes Raytheon's [RTX] Multi-Spectral Targeting Systems-D EO/IR sensors, Honeywell's [HON] aircraft engines, Leonardo's SAGE 750 Electronic Surveillance Measures systems, General Dynamics' [GD] SATCOM antennas, Sierra Nevada Corp.'s electronic intelligence systems, Hellfire missile launchers and training missiles and laser-guided bombs.
The Air Force Life Cycle Management Center's MQ-9 program office said last week it is planning upgrades for the drone to counter potential threats from Russia and China (Defense Daily, April 21).
Gen. Frank McKenzie, the head of U.S. Central Command, also told lawmakers last week future operations in the Middle East will require a "bigger, better, different" capability for ISR than the current MQ-9 Reaper system (Defense Daily, April 20).