The head of U.S. Central Command (CENTCOM) told lawmakers Tuesday future operations in the Middle East will require a "bigger, better, different" capability for intelligence, surveillance and reconnaissance (ISR) than the current MQ-9 Reaper drone.
Rep. Mike Turner (R-Ohio) asked Marine Corps Gen. Frank McKenzie during a House Armed Services Committee hearing to discuss the role for the current drone system in CENTCOM, noting the panel is facing pressure for "diminishing the role of MQ-9 and other deployable ISR [capabilities]."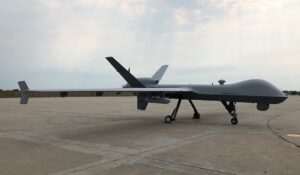 "I thought you might want to take an opportunity to give a commercial for the importance of that tool as you look to deterring Iran," Turner said.
McKenzie said the MQ-9, built by General Atomics, is a key tool for ISR in the region now, but a more sophisticated system will be required in the future.
"We need to move beyond the MQ-9 system, which is the backbone system for U.S. Central Command. The future's going to demand bigger, better, different kinds of ISR, more sophisticated than what we've got now. However, right now for me, the MQ-9 is a very good platform," McKenzie said. "So I use them, but I am not insensitive to the future of this platform and to that fact that we've got to make some adjustments globally." 
Will Roper, the Air Force's former top acquisition chief, said last July he envisions fielding a replacement for the MQ-9 by 2030 (Defense Daily, July 14 2020). 
The Air Force has released an Request for Information for the "MQ-Next" effort, seeking input on solutions that would include next-generation technologies such as artificial intelligence, autonomy, open-ended systems, machine learning and digital engineering.