Huntington Ingalls Industries [HII] announced the release of its new small-class REMUS 300 unmanned underwater vehicle (UUV) on April 19.
HII said the new vehicle can go up to 305 meters deep, includes endurance options of up to 30 hours, has a removable one terabyte hard drive, and can reach speeds up to five knots. It is the REMUS line's latest two-man portable UUV.
The company said the REMUS 300 incorporates feedback from hundreds of REMUS 100 users. The REMUS line also includes the REMUS 600 and 6000, with numbers indicating each craft's depth rating in meters.
The new vessel includes autonomy and common operating systems for interoperability with the REMUS family of systems, an open architecture design and modularity to integrate new software and hardware, the ability to exchange payloads, and an optional hardware development kit and software development kit enabling third-party integration.
"The REMUS 300 is the most advanced small-class UUV on the market. It combines everything we've learned from more than 20 years of development on our REMUS 100 systems with enhancements like advanced modularity and a more robust structure and sensors. We're excited to offer this solution to customers who are looking to dive deeper and go longer with a flexible, man-portable system," Duane Fotheringham, president of the Unmanned Systems business group within HII's Technical Solutions division, said in a statement.
HII said common applications for the REMUS 300 include mine countermeasures, hydrographic survey, rapid environmental assessment, search and recovery, and marine research.
HII spokesperson Beci Benton told Defense Daily the REMUS 300 maintains a small-class form factor similar to the REMUS 100 but can dive deeper and is more portable than the REMUS 600. Benton also said this newest UUV "represents a generational leap in technology and capabilities and the advancements we've made with the REMUS 300 can be scaled across all our systems."
The company said the REMUS line has sold over 500 UUVs to 25 countries. Benton added that over 400 REMUS UUVs have been fielded so far.
HII acquired Hydroid Inc., which develops and manufactures the Remus line, in early 2020 from Norway's Kongsberg Grupper.

Benton said through the UUV fieldings, the company has learned the man-portable form factor is important to customers "because it allows for rapid deployment from any vessel of opportunity."
The REMUS 300 vessel features modular energy sections that allow the user to field replace 1.5, 3.0, or 4.5 kilowatt-hour lithium-ion batteries, which would allow for up to 10, 20, or 30 hours of endurance.
According to a company data sheet, the UUV options range from a 100-pound expeditionary configuration to a 149-pound long endurance configuration. The variants range from 7.5 inches to 8.12 inches in diameter, 75 inches to 99 inches in length, and have a maximum range of 29 to 89 nautical miles. Depending on battery configuration, the REMUS 300 can recharge in six, 12, or 18 hours.
Benton said the demand signal for the REMUS 300 did not come from any specific customer, but it "is more of a culmination of feedback we've gotten from our customers in the U.S. and international defense, marine research and commercial industries."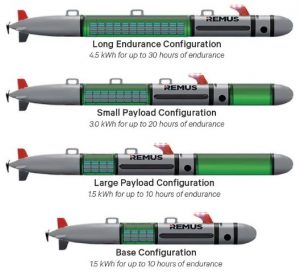 Last year, before HII completed its deal to acquire Hydroid, the company delivered the first REMUS 300 prototype to the U.S. Defense Department's Defense Innovation Unit, whereupon the Naval Information Warfare Center accepted and characterized the vessel. At the time, then-owner Kongsberg said the UUV would be assessed for the next year as a possible solution for the Navy's Next Generation Small-Class UUV program (Defense Daily, Feb. 14).
Benton said the company has already received "several" quote requests and sees the REMUS 300 being of interest to various U.S. and allied country customers.
"Customers are not only looking at initial platform costs, but lifecycle and maintenance costs as well. The REMUS 300 offers less risk and cost, making it an attractive platform for data collection in the ocean," she added.
Standard configurations of the REMUS 300 UUV can be acquired internationally and commercially, with orders currently being accepted with delivery as soon as 2022.
While delivery times are assessed when orders are made and are dependent on quantity and complexity of systems, Benton said initial orders for the standard configurations of the REMUS 300 are expected to be delivered in the first half of 2022.
"We anticipate this lead time will come down as the production line and supply chain are matured."
HII's small and medium-class UUVs, including the REMUS line vehicles, are built at the company's 40,000 square-foot purpose-built manufacturing facility in Pacasset, Mass. Benton said at any given time the facility has 30 to 50 systems on the floor in various stages of assembly, including vehicles returned to undergo maintenance or upgrades.
HII has additional manufacturing and testing capabilities at facilities in Lynnwood, Wash, and Panama City, Fla.
HII broke ground on a new Unmanned Systems Center of Excellence last September in Hampton, Va. to help develop and build unmanned vessels. The facility will sit on a 20-acre campus in Hampton Roads. (Defense Daily, Sept. 22, 2020).
Benton said the first 22,000 square-foot building on the campus opened last December and is currently being used to assemble the hull structure on the Boeing [BA] Orca XLUUV program for the Navy.
A second 135,000 square-foot facility at the site is expected to be finished by the fourth quarter of this year.