Top Huntington Ingalls Industries [HII] officials Thursday said the company is committed to unmanned systems going forward in addition to traditional manned ships.
During a quarterly earnings call Feb. 11, HII president and CEO Michael Petters was asked what is a realistic percentage of the Navy that will become unmanned and autonomous later.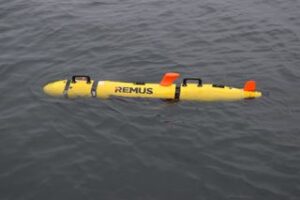 Petters said he did not know how to answer that because it can be measured in number of platforms, capabilities, regions, and missions.
"The way we think about it is really about the capability set where the technology is, what are the kinds of things that we think are going to be useful and applicable to the mission of the Navy," he said.
Petters said HII first acquired part of the The Columbia Group to start work on unmanned undersea platforms and more recently acquired Hydroid, helping the company have "strong offerings in every size and capacity and capability in the unmanned undersea space today."
In 2015, HII acquired the Florida-based Engineering Services Division of The Columbia Group for an undisclosed amount. At the time the division did less than $10 million in annual sales with a staff of about 30 employees (Defense Daily, Jan. 30, 2015).
A year ago, HII announced it agreed to acquire Hydroid for $350 million from Norway's Kongsberg Gruppen. Hydroid develops and builds the Remus line of unmanned undersea vehicles (UUVs) (Defense Daily, Feb. 4, 2020).
HII is also working with Boeing [BA] on its Orca Extra Large UUV program for the Navy.
"So we're going to remain committed to it. We think that the unmanned undersea space is conceptually ahead, it's a challenging space. But from a [concept of operations] perspective, I think it's conceptually ahead of the surface, the unmanned surface space," Petters said.
Petters underscored that "frankly, I think this is going to be one of those where it's a bit of a self-fulfilling prophecy."
As industry demonstrates more unmanned system capability and capacity, he believes that will help demonstrate it can become a larger part of the Navy's future plans.
"What's the limit of that? I don't know," he said. "Where does it go? I don't know. But that's the mission in front of us right now is to mature that."
HII executive vice president and Chief Financial Officer Christopher Kastner added that more so than manned platforms, the company's UUVs open up international markets to them.
"And there's significant international customers that are interested in those products. So that's also very interesting for us," Kastner said.