The Navy's newest aircraft carrier recently finished its combat systems ship's qualification trials (CSSQT) and reached 8,000 aircraft launches and recoveries.
The CSSQT work onboard the USS Gerald R. Ford
(CVN-78) began in February and was the culminating combat systems test of the carrier's 18-month post-delivery test and trials (PDT&T) phase of operations. CSSQT is a Naval Sea Systems Command requirement to verify the ship personnel can operate and maintain their combat systems in a safe and effective manner.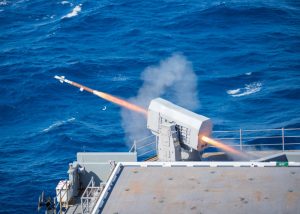 CSSQT consisted of five phases, culminating in the final phase, 2C. Ford CSSQT Project Officer Larry Daugherty referred to phase 2C as the "prove it" phase, after previously conducting detect-to-engage scenarios with aircraft.
In 2C, the Ford was faced with rocket-propelled drones able to reach speeds over 600 miles per hour, towed drone units (TDU) simulating rockets, and remote controlled high-speed maneuvering surface targets (HSMST).
The crew dealt with the simulated threats using defense systems including Rrolling Airframe Missile (RAM) launchers with RIM-116 missiles, NATO launchers to fire evolved sea sparrow missiles (ESSM), and the Mk-15 Phalanx Close-In Weapon System (CIWS) to fire bullets at 4,500 rounds per minute.
Daugherty boasted that "the crew crushed it" and all missile firings were "executed perfectly."
The defense missiles engaged the drones while the CIWS defeated the TDUs and HSMSTs.
"Those Sailors not only took out the first two HSMSTs, they punched holes in them, set them on fire, and they both sank. On the third one, the CIWS operator was so good that he actually hit the target further out than the weapon system's maximum effective range and put it [dead in the water] DIW," Daugherty said.
"CSSQT was a live-fire, hands-on opportunity to prove the self-defense capability of this fine warship. We always intend to use our embarked air wing to influence our adversaries at great ranges from the ship, but if they're able to get a shot at us, this event has shown our crew the formidable nature of our organic weapons," Capt. Paul Lanzilotta, Ford's commanding officer, said in a statement.
The test began with several days of various systems checks, ordnance uploads, preventative maintenance checks, and telemetry checks to ensure the defensive systems were fully ready.
Currently, the Ford is underway for Independent Steaming Event 18 (ISE 18), as part of the PDT&T. When PDT&T ends this month the ship will prepare for the next major event, full ship shock trials, which is scheduled for the summer.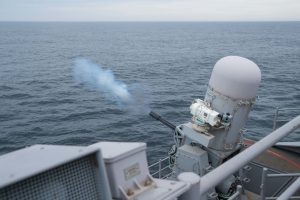 Shock trials validate the ability of new construction ships to carry out assigned missions and evaluate operational survivability after being exposed to underwater shock.
Separately, the Navy announced on April 26 the Ford's Electromagnetic Aircraft Launch System (EMALS) and Advanced Arresting Gear (AAG) reached 8,000 aircraft launches and recoveries on April 19 during the final ISE.
"On the way to reaching 8,000 launches and recoveries, we saw many Ford crew trained, learned a great deal about the systems, and laid invaluable groundwork for future Ford-class ships," Capt. Kenneth Sterbenz, Aircraft Launch and Recovery Equipment (ALRE) program manager (PMA-251) for EMALS and AAG, said in a statement. From 2020 through 2021, 351 Naval aviators were qualified to use EMALS and AAG and over 7,000 of the total launches and recoveries occurred in the last 18 months.
Cmdr. Lindsey Buzzell, PMA-251 deputy program manager for Ford CVNs, said the PDT&T period was "extremely valuable for ALRE, as it allowed for extensive test and evaluation, and the opportunity to expose useful learning opportunities."
The system did experience some rough spots sailing during PDT&T. In early June the EMALS went down for five days while the ship was at sea. At the time, Navy officials said the cause of the issue appeared to be the power handling system during a manual reset of the system (Defense Daily, June 8, 2020).
At the time, previous Ford commanding officer Capt. J.J. Cummings said "it seems like every underway we find a different minor glitch that surfaces that needs to be addressed and we're able to address it underway" (Defense Daily, June 1, 2020).
EMALS and AAG were developed by prime contractor General Atomics and aim to require less maintenance, less manpower, and a smaller footprint than the previous stream catapults and arresting gear aboard Nimitz-class carriers.
Last September, commander of Naval Air Forces Atlantic Rear Adm. John Meier said CVN-78 is on track to be first deployed in 2022 (Defense Daily, Sept. 14, 2020).
The Ford-class carriers are built by Huntington Ingalls Industries [HII].