The USS Gerald R. Ford's (CVN-78) Electromagnetic Aircraft Launch System (EMALS) catapult went down for five days during at-sea testing last week, the Navy revealed June 7.
On June 2, the EMALS went down just before a scheduled flight deck operation cycle and was not ready again until June 7.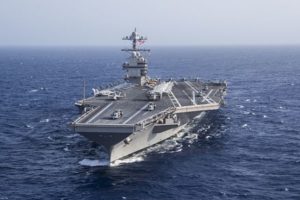 The Navy said after several days of troubleshooting and assessing a fault in the system's power handling elements, "embarked EMALS experts and Ford's crew restored the system to enable the safe fly-off of the air wing on Sunday morning, June 7."
"The ship's response to these EMALS challenges underscores our ability to identify and to correct issues impacting flight operations quickly. That's the purpose of the PDT&T phase. The learning and improvement that results from pushing the systems will make the ship and air wing team better and more effective in future underway events," Rear Adm. Craig Clapperton, commander of Carrier Strike Group (CSG) 12, said in a statement.
Ford is in the middle of an 18-month Post-Delivery Test and Trials (PDT&T) period that includes 11 at-sea underway periods. The period is expected to be finished in the second quarter of FY 2021, followed by full ship shock trials in summer 2021, then a planned incremental availability to repair and maintain remaining issues before its initial deployment.
Navy spokesperson Capt. Danny Hernandez told Defense Daily while the root cause of the EMALS issue is under review, "the fault appeared in the power handling system, during a manual reset of the system."
He underscored this section is independent of the high pulsed power section to launch aircraft and "is not a safety of flight risk."
Hernandez said the Navy is reviewing procedures and any impacts to the system.
"What they find and corrective actions they take will be key to ensuring that when Ford enters the Fleet after operational testing, the ship is ready to support the war fighter."
In a statement, the Navy admitted the loss of EMALS curtailed flight operations, but the ship, air wing, and Strike Group "still accomplished significant goals scheduled for the Ford-class aircraft carrier."
Hernandez said the air wing was able to launch off the Ford on April 7 when "the crew, supported by a team of experts, developed an alternate method to launch the air wing off."
Last week, Ford Commanding Officers Capt. J.J. Cummings told reporters every underway period it seems they find different glitches that need to be addressed and "you kind of want it to break, you want to find out" when they need to do onboard repairs so the systems are prepared for its future deployment (Defense Daily, June 1).
The Navy also said during this at-sea period, the ship embarked Carrier Air Wing 8 which conducted 324 total catapult launches and arrested landings and also qualified 50 pilots including Cummings.
Thus far, the Ford has conducted 3,480 catapult launches and arrested landings using EMALs and the Advanced Arresting Gear. However, this is not yet enough to make conclusions on total system reliability.
Hernandez said that while the number of launches and recoveries is "quite an achievement, it is an insufficient number of events from which to draw conclusions with respect to reliability.  Each fault and interruption to operations is reviewed to find the root cause issue, and appropriate corrective actions will be executed to correct those issues and increase system reliability."
"As flight operations on CVN-78 continue, interruptions will be tracked, systematically reviewed and addressed with design and procedural changes aimed at achieving operational requirements for the rest of the Ford class," he added.
The Navy also boasted for the first time Ford moved thousands of pounds of inert ordnance using Advanced Weapons Elevators (AWEs) for loading on F/A-18 E/F Super Hornets that the aircraft used for close air support and air-to-ground training missions.
The AWEs conducted more than 1,300 cycles during this at-sea period, transferring 176 inert bombs. The Navy said Ford's elevators have now conducted over 10,000 total cycles thus far.
This story was updated on June 9.