The Federal Communications Commission (FCC) is broadening its focus on suppliers that pose potential national security risks to U.S. networks to include service providers, not just equipment manufacturers, as the U.S. continues building out 5G network infrastructure.
Jessica Rosenworcel, the FCC's acting chairwoman, said the agency plans to continuously update its new list of equipment providers that pose "unacceptable risk to national security" published in March, as it implements $1.9 billion in newly appropriated funds to help replace unsecure equipment.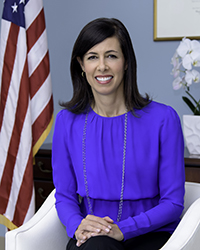 "As a nation, some of the newest threats we face, and perhaps some of the fastest growing, are those in our communications supply chain," Rosenworcel said during a virtual workshop on Monday. "There can no longer be any question that, when it comes to network security, the threats are real, the stakes are high and our defenses need to constantly evolve and improve. This is especially vital as we transition to next-generation 5G networks that will connect so much more in the world around us."
The FCC's list includes previously banned telecommunications firm Huawei as well as several other Chinese companies, to include ZTE, Hytera Communications Corp., Hangzhou Hikvision Digital Technology and Dahua Technology.
In 2019, the Commerce Department added Huawei to the entity list, essentially restricting U.S. companies from doing business with the Chinese firm.
Rosenworcel said along with the move to further scrutinize telecommunications service providers, she has also directed the FCC's international bureau to look at the agency's past grants of international applications and recommend further options for removing any additional sources of risk.
"We previously denied an application from China Mobile USA to enter our markets after finding that the company is ultimately owned and controlled by the Chinese government. And we recently put four similarly situated companies on notice that they could share a similar fate," Rosenworcel said.
The FCC is also conducting its first broad-based assessment of the domestic "open radio access network," or open RAN, marketspace and looking at rules that could help promote domestic innovation opportunities.
"While we continue to take action to slow down untrusted vendors, I believe we also need to take action to speed the way for trustworthy innovation too," Rosenworcel said. "There is good reason to think that disaggregating the RAN brings real benefits for the supply chain, including more security, lower costs, more competition and reduced exposure to any single foreign vendor. It could also push the equipment market to where the United States is uniquely skilled, and that's software."