The future Independence-variant Littoral Combat Ship, USS Mobile (LCS-26), finished acceptance trials on Sept. 25, the Navy said Thursday.
The Navy conducted comprehensive tests of the LCS-26 systems during the trial in port and at sea in the Gulf of Mexico, including main propulsion, auxiliaries and electrical systems. During the tests, the ship performed a full-power demonstration, steering and quick reversal, anchor drop test and combat system detect-to-engage sequence.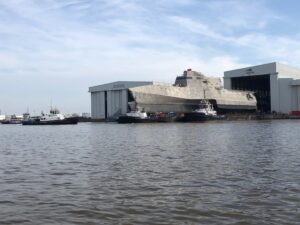 LCS-26 was built by Austal USA at its shipyard in Mobile, Ala., like the other even-numbered Independence-variant LCSs.
"I am impressed with the outstanding results achieved by the Navy and industry team during this acceptance trial of the future USS Mobile. We continue to see impressive results during trials as we work to provide warfighting capability to the fleet and the nation," Capt. Mike Taylor, LCS program manager, said in a statement.
Following the trials, the Mobile is expected to be delivered to the Navy later this month. After the ship is delivered and commissioned, it is set to sail to its homeport in San Diego with the other Independence-variant LCSs.
Four more LCSs are under construction at Austal's shipyard: final assembly is under way on the future USS Savannah (LCS-28), the modules for Canberra (LCS-30) are erected, Austal is fabricating modules for Santa Barbara (LCS-32), and fabrication has started on Augusta (LCS-34).
The company also plans to start fabrication on the future USS Kingsville (LCS-36) and Pierre (LCS-38) in 2021.