The Navy's land-based test site received the new destroyer Air and Missile Defense Radar (AMDR) system on Oct. 7, the Navy said Thursday.
The Combat Systems Engineering Development Site (CSEDS) in Moorestown, N.J., accepted the Raytheon Technologies [RTX] AN/SPY-6(V)1 AMDR to test it for lessons learned in a controlled environment to correct issues before the system is integrated and deployed on new Flight III Arleigh Burke-class destroyers.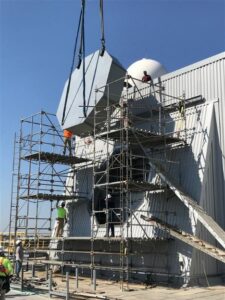 Huntington Ingalls Industries [HII] is building the USS Jack H. Lucas (DDG-125) as the first new destroyer with the radar and is set for delivery in 2023.
The AMDR is expected to provide improved fleet capabilities and better tracking of missile threats for missile defense. However, it requires major ship modifications making the ship larger to house the radar with its power and cooling requirements, thus the new Flight III destroyer.
Raytheon previously said the AMDR is 30 times more sensitive than the current radars on destroyers.
The Navy underscored the AMDR power distribution system will first be tested and integrated into other systems at CSEDS.
CSEDS is also where the Aegis Combat Systems and Aegis Weapon System are tested. The service said a live array "will provide critical testing input to ensure software (computer programs) and hardware (radar, weapon elements) function according to specifications."
In July, Raytheon delivered the first of four 14 by 14 feet AN/SPY(V)1 radar arrays for DDG-125 and said the last one was expected to be delivered this month. Operational tests to evaluate AMDR performance on the destroyer are set to start in 2022.  (Defense Daily, July 22).
The Navy underscored this is the first project of its kind at the CSEDS since an array from the USS Cole (DDG-67) was installed in 2010
"Today marks a historic day for AEGIS [Technical Representative team] and the U.S. Navy as we usher in a new age of advanced sensor technology and a leap forward in combat power and lethality," AEGIS Technical Representative Commanding Officer Capt. Phillip Mlynarski said in a statement Oct. 6.
"The combined government and contractor team have shown how much can be accomplished in a short amount of time to support our sailors," Mlynarski added.