Secretary of the Navy Kenneth Braithwaite announced the first FFG(X) guided-missile frigate will be named the USS Constellation.
Speaking aboard the recreated wooden museum ship USS Constellation in Baltimore on Oct. 7, Braithwaite connected the new frigates to one of the original six frigates the Navy bought after the American Revolution.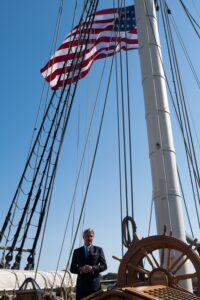 "Today it is my honor and privilege to announce that the new guided missile frigate, FFG-62, will carry on the name, honor and legacy of USS Constellation. As the first in her class, these ships will now be known as the Constellation-class frigates, linking them directly to the original six frigates of our Navy and carrying on the traditions of our great service, which have been passed down from generation to generation, of our sailors," Braithwaite said.
"Constellation-class frigates will be agile, multi-mission warships, designed to provide combat-credible forward presence on the open ocean, as well as power projection ashore," he added.
Braithwaite noted Secretary of Defense Mark Esper highlighted the new frigates when he outlined the new Navy fleet plan called Battle Force 2045.  Esper called the frigates a "preview of where we are headed" while noting the plan calls for increasing small surface combatants to the 60 to 70 vessel range (Defense Daily, Oct. 16).
"These ships were specifically highlighted yesterday in Secretary of Defense Esper's announcement of our future naval force study, advocating the production of substantial numbers of small multi-mission combatants like Constellation to distribute capability across the surface fleet," the Secretary of the Navy said.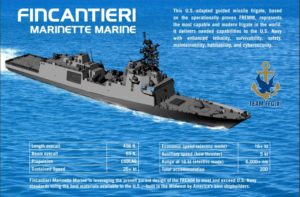 In April, the Navy awarded Fincantieri Marinette Marine a $795 million contract to design and build the first new frigate. It includes options for the following nine ships that, if exercised, will raise the total contract value to $5.6 billion. The Navy eventually plans to buy 20 total frigates (Defense Daily, April 30).