The State Department has approved a potential $630 million deal with Singapore to provide munitions for its fleet of F-15SGs and a $293 million sale of Advanced Medium-Range Air-to-Air Missiles (AMRAAM) to Japan.
The Defense Security Cooperation Agency (DSCA) notified Congress on Monday of both foreign military sales.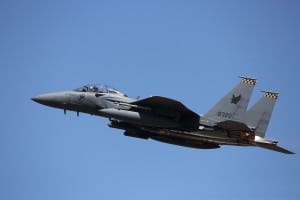 The Singapore munitions deal specifically covers 90 MXU-651 Air Foil Groups (AFGs) for 2000LB Paveway II (PWII), GBU 10 bombs, 90 MAU-169 or MAU-209 Computer Control Groups (CCGs) for 2000LB PWII, GBU-10s, 140 MXU-650 AFGs for 500LB PW-II, GBU-12s, 140 MAU-169 or MAU-209 CCGs for 500LB PWII, GBU 12s, 20 Joint Direct Attack Munition (JDAM) KMU-556 tail kits for GBU 31s, 22 JDAM KMU-572 tail kits for Laser JDAM, GBU-54s, 200 FMU-152 fuzes, 50 MK-84 2000LB General Purpose (GP) bombs, 50 MK-82 500LB GP bombs and 625 Mk-82 500LB inert bombs.
Singapore, which has operated Boeing [BA] F-15SGs since 2009, would also receive follow-on training and sustainment support as part of the new deal
"The proposed sale will enable the Singapore Air Force to continue its flight training program to develop mission-ready and experienced pilots to safely and effectively fly its F-15 aircraft, as part of the Peace Carvin V Detachment Training Program. The well-established pilot proficiency training program at Mountain Home Air Force Base will support professional interaction and enhance operational interoperability with U.S. Forces," the DSCA wrote in the announcement.
The DSCA said there is no prime contractor for the Singapore FMS case and noted "sources of supply may award contracts when necessary to provide the defense articles if items are not available from U.S. inventory or are considered long lead-time away."
For Japan, the deal would cover the sale of 150 of Raytheon Technologies' [RTX] AIM-120C-7/C-8 AMRAAM missiles and three AIM-120 AMRAAM guidance sections.
"The proposed sale will improve Japan's capability to meet current and future threats by defending the Japanese homeland and U.S. personnel stationed there. Japan already has AMRAAMs in its inventory and will have no difficulty absorbing these missiles into its armed forces," the DSCA wrote.