Bell [TXT] said Monday it has officially restarted production of the UH-1Y Venom as it looks to build the platform for planned deliveries to the Czech Republic, the first international customer for the attack helicopter.
The company noted Crestview Aerospace has finished manufacturing the first of eight UH-1Y cabins, which will then head to the Bell's production facility in Amarillo, Texas, for final assembly.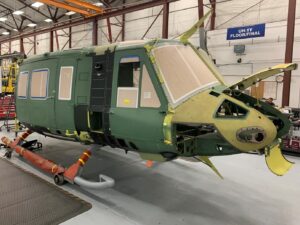 "Crestview Aerospace is honored and grateful for the opportunity to team with Bell on the continued production of the UH-1Y cabin for the first international customer," Paul Kohlmeier, Crestview Aerospace's senior vice president for strategy and business development, said in a statement. "Crestview continues to build in the same high quality and reliability into the international Venom helicopters that underpin the aircraft currently operated by the United States Marine Corps around the world."
The U.S. signed a $650 million deal with the Czech Republic in December 2019 to sell the country eight UH-1Y Venom and four AH-1Z Viper helicopters (Defense Daily, Dec. 12 2019).
Bell had delivered the last UH-1Y helicopter to the Marine Corps in 2018 and is expected to continue deliveries of the AH-1Z to the Marines through early 2022, with future production slated for international customers.
In early 2019, the company was awarded a deal worth more than $240 million to also build 12 AH-1Z helicopters for Bahrain (Defense Daily, Feb. 7 2019).