The State Department approved a possible Foreign Military Sale (FMS) of up to 12 F-35B Joint Strike Fighters to Singapore for $2.75 billion this week.
The Defense Security Cooperation Agency (DSCA) notified Congress of the deal on Jan. 9.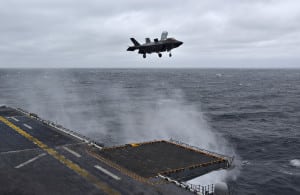 If approved by Congress, the deal would provide Singapore with four F-35B Short Take-Off and Vertical Landing aircraft with the option to buy another eight as well as up to 13 F135 engines supplied by Pratt & Whitney, a division of United Technologies Corp. [UTX].
The FMS includes electronic warfare systems; command, control, communication, computers and intelligence/communication, navigation and identification (C4I/CNI) system; Autonomic Logistics Global Support System (ALGS); Autonomic Logistics Information System (ALIS); F-35 Training System; and various other systems, subsystems, spare and repair parts, and logistics and training equipment and support.
The primary contractors for this FMS are F-35 builder Lockheed Martin [LMT] and Pratt and Whitney.
The F-35Bs will "augment Singapore's operational aircraft inventory and enhance its air-to-air and air-to-ground self-defense capability, adding to an effective deterrence to defend its borders and contribute to coalition operations with other allied and partner forces," the agency said in a statement.
DSCA added Singapore is a "strategic friend and major Security Cooperation Partner and an important force for political stability and economic progress in the Asia Pacific region."