The Army's tactical network modernization team has begun soliciting white papers to find new technologies to be included in its second capability drop in fiscal year 2023, ranging from low and mid-Earth orbit satellite systems to network transport tools.
The request for white papers was released after a November industry meeting in Austin, Texas to inform requirements for the six topic areas across Capability Set (CAPSET) 23.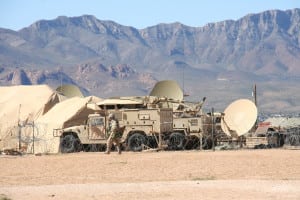 "Capability Set 23 is an iterative development process pulling in the best of industry and Army S&T efforts. This call for white papers is a beginning step to solicit industry capability and ideas to continue to modernize the Army's tactical network," Paul Mehney, spokesperson for PEO C3T, said in a statement. "Capability Set 23 will focus on bringing on-the-move network capability to Armor formations, improve data management across our mission command environments, better protect our command posts and enhance our network transport with commercial satellite capability and more secure waveforms."
The Army's network modernization cross functional-team previously announced its plan to refocus its modernization initiative around dropping in new capabilities every two years, beginning with CAPSET 21.
Technologies included within CAPSET 23 are expected to be at a Technology Readiness Level 6 and above and designed to  enhance network capacity, resiliency, and convergence solutions."
For the low and mid-Earth orbit satellite tools, the Army said it "is interested in exploring the use of managed services providing satellite-based communications on the battlefield and avoiding the use of a government satellite controller" or hub. This would include the architecture and equipment to manage SATCOM for stationary solutions in a tactical environment.
Additional areas of interest for CAPSET 23 include software solutions for an open suite of consolidated tools for unified network operations as well as data segregation by identity management capabilities. 
"Based on the evaluations, [the Army] will select contractors to participate in a no-cost technology demonstration, which may lead to an eventual prototype contract to support operational experimentation," officials wrote in a statement.
The request for white papers is only open to members of the C5 consortium, and responses are due to the Army by January 21.