ARLINGTON, Texas — Bell's [TXT] V-280 Valor tiltrotor aircraft completed a successful autonomous test flight in December, as the company readies for an Army downselect decision in March to continue forward in the Future Long Range Assault Aircraft program. 
Ryan Ehinger, Bell's program manager for V-280, said the technology demonstrator aircraft performed the full range of autonomous flight requirements during the test, including automated takeoff and landing, conversion into cruise mode, and precision navigation.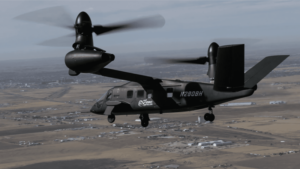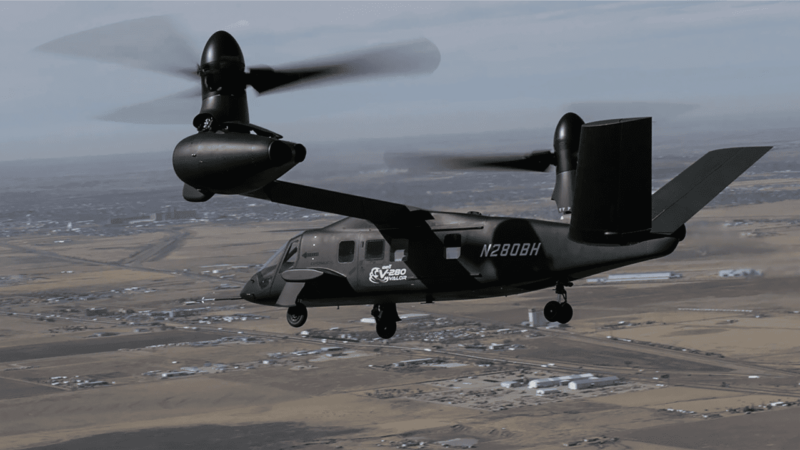 "I am very happy to be able to report that on Dec. 18, which was the two-year anniversary of our first flight of the V-280, we did demonstrate over the course of two sorties all the elements required of an autonomous flight," Ehinger told reporters here on Wednesday. 
The autonomous capability announcement followed a manned V-280 flight test demonstration at the company's flight research center here that was attended by the media, Army Secretary Ryan McCarthy, Rep. Kay Granger (R-Texas), and Brig. Gen. Walter Rugen, director of the Future Vertical Lift cross-functional team.
Rugen confirmed to Defense Daily that a downselect decision will be made in early March for up to two aircraft to move onto the FLRAA Competitive Demo & Risk Reduction phase, as the Army looks to build on the experience flying tech demonstrators in the Joint Multi-Role Technology Demonstrator (JMR-TD) phase.
Bell's V-280 tiltrotor and a Boeing [BA]-Sikorsky [LMT] team's SB-1 Defiant helicopter were the two technology demonstrators to participate in JMR-TD over the last six years and inform final FLRAA requirements.
Rugen noted during a roundtable with reporters that autonomy is more likely to be included in an Increment 2 version of FLRAA, rather than having it as a required capability when the first platforms are fielded by 2030. 
"We want that capability, but we don't want it so much so that we're going to cancel our program if we don't achieve it," Rugen said. "I think it would be a very tall order to get it into Increment 1. We'll have it in another spiral for sure. But it's premature, those decisions will be made at the appropriate time."
Paul Wilson, Bell's chief engineer for V-280, noted that the autonomous flight test was an opportunity to further inform FLRAA requirements and demonstrate that an optionally-manned capability was in the realm of the possible. 
"The biggest thing is understanding where [the Army's] long-term objective is and where they want to go. Then we can make sure we provision for that capability, so when we do integrate capability over the life of the platform it's not a significant redesign or significant amount of cost to put that new capability in," Wilson said.
Ehinger noted that Bell developed its own autonomous guidance computer for the autonomous testing, and brought in experience working with its other unmanned platforms such as the Autonomous Pod Transport UAV, the V-247 UAV and the Nexus air taxi. 
Bell officials noted that the company has not yet scheduled a future flight test to demonstrate a full end-to-end autonomous flight, rather than just the individual optionally-manned elements of the V-280.
"The capability is there. It's a matter of where it fits within our flight test program schedule," Wilson said.