The Army last Wednesday held a proof of concept demonstration for an Autonomous Multi-Domain Launcher (AML) capability that could function as an unmanned, mobile launcher to fire both current and future munitions.
The event at Fort Sill in Oklahoma was a combined effort between the Army's Long-Range Precision Fires Cross-Functional Team, Ground Vehicle Systems Center and Aviation & Missile Center, and involved running through three simulated scenarios in an effort to showcase the concept and garner support for continued AML development.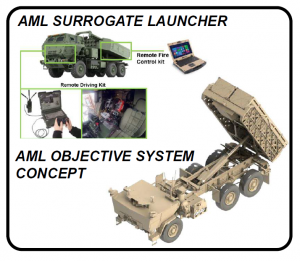 "The prototype launcher will be capable of leader-follower autonomy, autonomous waypoint navigation, drive-by-wire, and remote launcher turret and fire control operation," the Army wrote in a statement detailing AML. "It will be capable of launching longer munitions while remaining compatible with the current munitions."
Officials at the event demonstrated a surrogate capability of the "autonomous, unmanned, highly mobile, C-130 transportable launcher," which included using remote driving and remote fire control kits to operate a HIMARS launcher using leader-follower technology.
The Army said the goal for the demonstration was to generate soldier feedback on the concept to inform future design changes, identify potential physical and cyber security challenges and evaluate communication needs for manned-unmanned teaming.
"An AML would thicken the force by providing Fires Forces with additional launcher platforms to mass fires with minimal impact on force structure manning," the Army wrote. "The AML would also provide the Army a force multiplier increasing capacity (3X increase in fire power/magazine depth) and force projection in support of Joint Operations."