The Pentagon's lead technology official on Tuesday said she wants to make hypersonic weapon systems more affordable, and added she believes the Army's push to field an initial operational capability in 2023 is a realistic goal.
Heidi Shyu, the new under secretary of defense for research and engineering, told reporters during a press briefing at the Association of the United States Army conference she wants to work with industry on driving down the costs for developing and building the new hypersonic weapon capabilities.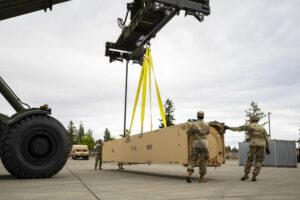 "We need to figure out how to drive toward more affordable hypersonics," Shyu said during the briefing.
On the Army's work developing the Long Range Hypersonic Weapon (LRHW), Shyu highlighted the work done by the service's Rapid Capabilities and Critical Technologies Office (RCCTO) to field an initial operational battery in 2023.
"The Army RCCTO organization has done an outstanding job in developing and pushing the [hypersonic] technology forward. I have actually been staying involved with [RCCTO Director] Lt. Gen [Neil] Thurgood throughout the development," Shyu said. "He's done a fantastic job of pulling that together. He got industry involved right up front. That's a critical piece. If you treat industry at arm's length then you're just throwing the ball back and forth. You really want to huddle together and work as a team. That's exactly what he's done."
Thurgood also told reporters this week the first live hypersonic missile rounds will be delivered a year from now to the unit operating the service's first LRHW prototype battery (Defense Daily, Oct. 13).
Last week, the Army announced it had completed fielding of the ground equipment for its first prototype hypersonic weapon battery, minus the live rounds, to the soldiers from the I Corps' 5th Battalion, 3rd Field Artillery Regiment, 17th Field Artillery Brigade at Joint Base Lewis-McChord in Washington (Defense Daily, Oct. 7).
Deliveries of the live rounds to provide the unit "a basic load" of missiles will be completed by the end of FY '23 to meet the service's target date to field the first LRHW operational capability, according to Thurgood.
The hypersonic weapon development is a joint effort with the Navy designing the Common Hypersonic Glide Body (C-HGB) and the Army overseeing production.
"I would just like to see the same capability fielded as rapidly in the Navy as well," Shyu said.