The Army has completed fielding of the ground equipment for its first prototype hypersonic weapon battery, the service said Thursday, a key step toward having the first operational capability ready in fiscal year 2023.
Soldiers from the I Corps' 5th Battalion, 3rd Field Artillery Regiment, 17th Field Artillery Brigade at Joint Base Lewis-McChord in Washington will now begin new equipment training this month after having received the full Long Range Hypersonic Weapon (LRHW) equipment minus the live hypersonic rounds.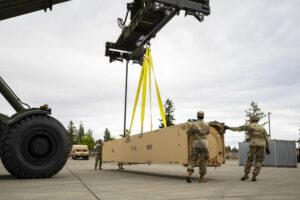 "Today marks an important milestone in equipping our nation's first hypersonic battery," Lt. Gen. Neil Thurgood, director of the Army's Rapid Capabilities and Critical Technologies Office (RCCTO), said in a statement. "From a blank piece of paper in March 2019, we – along with our industry partners and joint services – delivered this hardware in just over two years. Now, Soldiers can begin training."
The first prototype hypersonic battery for LRHW, also now called "Dark Eagle," includes four road-mobile, C-17 transportable launchers that can each carry two rounds, a battery operations center and a group of modified trucks and trailers.
Delivery of the equipment began with training canisters in March and officially concluded on Sept. 28, according to officials.
"The Army is on track to deliver a land-based, ground-launched and air-transportable Long Range Hypersonic Weapon by FY '23. Today celebrates a key milestone in that prototyping effort. It's a huge win for Army modernization,"  Robert Strider, deputy director of the Army hypersonics project office, told reporters. "Our goal is to deliver a prototype that soldiers can use as the mission requires and that it's deemed safe and that the Army can leverage as a potential baseline for a program of record."
Strider said he could not disclose when the hypersonic missile rounds will be delivered to the unit due to security concerns.
The hypersonic weapon development is a joint effort with the Navy designing the Common Hypersonic Glide Body (C-HGB) and the Army overseeing production.
The Army has previously tapped Lockheed Martin [LMT] to serve as the weapon systems integrator for the LRHW, which will be fired from a truck, while Dynetics [LDOS] is tasked with producing the C-HGB (Defense Daily, Aug. 30, 2019).
Last March, the Army and Navy conducted a successful launch of the C-HGB from the Pacific Missile Range Facility in Kauai, Hawaii, which included flying the glide body at hypersonic speed to reach a designated impact point (Defense Daily, March 20).
Col. Ian Humphrey, project manager for integration at the Army's hypersonics project office, noted the unit will now begin training on the equipment in the lead-up to a joint developmental test with the Navy in early FY '22 followed by additional testing efforts through FY '23. 
"The tests will validate the common glide body design, the Army all-up round plus canister, the Army launcher and the command and control system," Humphrey told reporters. "By FY '23, the battery will be fully-trained and mission-capable."