The Army will release the final Request for Proposals for its rebooted Optionally Manned Fighting Vehicle (OMFV) competition in mid-December, according to the service.
The final solicitation notice follows a draft RFP released in June and will include further details into the Army's set of characteristics, rather than defined requirements, for the Bradley replacement program.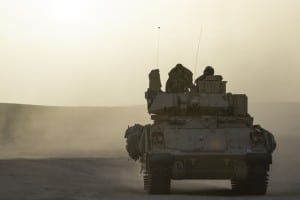 Brig. Gen. Ross Coffman, director of the Next-Generation Combat Vehicle Cross Functional Team, said in an Army statement on Monday the final OMFV solution may not have to be a single platform and could be "a battalion-level formation of vehicles with a variety of weapon systems."
"We're up for any innovation that you have," Coffman said.
The Army announced earlier this year it would cancel its original acquisition effort for OMFV, which faced scrutiny after a single bid sample from General Dynamics [GD] was accepted for the program's prototype phase.
The draft RFP from this summer detailed plans to award up to five contracts next June for industry to prove digital design prototypes under the program's preliminary phase (Defense Daily, July 17).
In September, the Army said it will no longer consider submitting its own design bid for OMFV, which was included as a possibility in the draft RFP, with the decision based on feedback from industry and dialogue among Army senior leaders (Defense Daily, Sept. 17).
The rebooted competition includes a shift away from prescriptive requirements and toward having industry inform vehicle characteristics through a bolstered feedback process, with the Army naming survivability as its top priority characteristic.
Additional characteristics include mobility, growth, lethality, weight, logistics, transportability, manning, and training.