American Rheinmetall Vehicles said on Aug. 26 it has signed a Cooperative Research and Development Agreement (CRADA) with the Army's Combat Capabilities Development Command Armaments Center (DEVCOM AC) to work collaboratively on integrated combat vehicle weapon, fire control, and ammunition technologies.
The U.S-based subsidiary of the German manufacturing firm specifically noted the CRADA will provide a venue to work on developments integrating the Army's XM913 50mm cannon on Optionally Manned Fighting Vehicle (OMFV) offerings, of which the company is one of five competitors.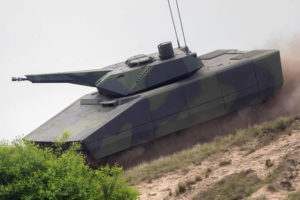 "This Master CRADA creates a tremendous opportunity to research, develop, and integrate the newest technologies into a modern fire control system for combat vehicles," Mike Milner, American Rheinmetall Vehicles' director for business development and strategy, said in a statement. "Specifically, efforts on integration of the XM913 50mm cannon will provide transformational capability and overmatch for our future soldiers."
The company said developments out of the CRADA could be applied to future weapon systems for the Army, such as OMFV, or the other military services, international militaries or lead to spin-off applications.
American Rheinmetall Vehicles' contribution to the CRADA could include digital engineering, modeling and simulation and prototyping work on projects ranging from direct fire armaments systems and cannon mounts to active protection systems, fire control and robotics, according to the company.
The Army in July awarded nearly $300 million in contracts to five competitors to work on refining concepts for OMFV, with American Rheinmetall Vehicles offering the Lynx platform along with its team of L3Harris [LHX], Textron Systems [TXT] and Raytheon Technologies (Defense Daily, July 23).
The other competitors selected for OMFV Phase II include General Dynamics Land Systems [GD], Oshkosh Defense [OSK], BAE Systems and armor supplier Point Blank Enterprises.
Rheinmetall said in May the company had opened a new 20,000 square foot facility in Sterling Heights, Michigan in its preparation for participating in the OMFV program (Defense Daily, May 10).