The Army announced Friday it has selected General Dynamics Land Systems [GD], Oshkosh Defense [OSK], BAE Systems, Rheinmetall and armor supplier Point Blank Enterprises to work on refining their concepts for the Optionally Manned Fighting Vehicle (OMFV) program.
Nearly $300 million in contracts were awarded to the five firms selected for OMFV Phase Two, who will now work for the next 15 months on the concept design phase to assist the Army in finalizing its requirements for the Bradley replacement program.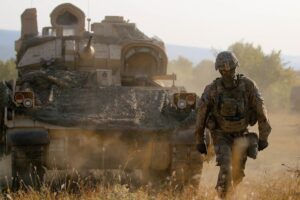 The service will then select up to three vendors in the second quarter of fiscal year 2023 to move onto the design review period followed by a physical prototype testing phase.
"We asked the bidders to present their approach to a concept. What we graded them on was how they intended to take on these characteristics and work those into specific requirements and specifications to evolve their preliminary concept," Brig. Gen. Glenn Dean, program executive officer for ground combat systems, told reporters on Friday. "But, the projected performance and specific design features of the concept was not specifically what they were being evaluated on. Because of the iterative activity that occurs between the current set of characteristics they've been given and the final set of requirements means there's likely to be changes, both from their initial concepts and in our government requirements."
This is the Army's second attempt at OMFV after it canceled the original acquisition effort in early 2020, which faced scrutiny after a single bid sample from General Dynamics [GD] was accepted for the program's prototype phase.
The Army then relaunched the competition with a focus on bolstering industry feedback on program specifications, asking vendors to submit proposals based on nine broad characteristics rather than providing a stringent set of requirements.
"It's no secret that replacing the Bradley fighting vehicle has been a challenge for the United States Army for quite some time. We believe that we're a learning organization and that we got it right this time," Maj. Gen. Ross Coffman, director of the Next-Generation Combat Vehicle Cross-Functional Team, told reporters.
Both Dean and Coffman said they believed the Army met its mark for reaching a "maximized field of competitors," noting the interest from traditional vehicle manufacturers, non-traditional partners and foreign companies.
"I think our approach to try and broaden the competition was successful," Dean said. "More is always better, to the extent that you can balance the competition and make it fair for everyone."
GDLS has said its team for OMFV includes the company's Mission Systems business, unmanned aerial vehicles firm Aerovironment [AVAV] and artificial intelligence and autonomy developer Applied Intuition (Defense Daily, April 16).
South Korea's Hanwha, a global supplier of combat vehicles, previously confirmed it has partnered on OMFV with Oshkosh Defense, which does not build tracked armored vehicles but does produce platforms such as the Army and Marine Corps' Joint Light Tactical Vehicle (Defense Daily, April 19).
BAE Systems, which sat out the first attempt at OMFV, has said it's working with partners such as Elbit Systems of America [ESLT] on an "advanced armored vehicle" design (Defense Daily, April 15).
American Rheinmetall Vehicles, the German manufacturer's U.S. subsidiary, has previously detailed its team offering the Lynx infantry fighting vehicle, which includes L3Harris [LHX], Textron Systems [TXT] and Raytheon Technologies [RXT] (Defense Daily, April 14).
Point Blank Enterprises, a supplier of body and lightweight platform armor, cited the Army's focus on digital design upfront and an emphasis on taking an open systems approach as key factors for getting involved with the rebooted Bradley replacement program (Defense Daily, April 28).
It appears Mettle Ops, a small Michigan-based defense firm, was the one vendor to publicly confirm it had submitted a bid not to receive a deal.
Dean said bidders were evaluated on their approach to how they would manage iterative analysis as the Army refined its requirements as well as capability for embracing modular open system architecture in their concepts.
"We, the government, will refine the requirements and specifications, feed that back out to industry, so they can update their concepts, and then repeat that cycle. So there will be at least two cycles of requirements and specifications updates back and forth with industry before the conclusion of the concept design phase," Dean said.
During the RFP process, the Army laid out its nine characteristics of need, placing survivability and mobility as two highest priorities, with Coffman noting additional granularity was provided to industry on the maximum size of the vehicle and the number of crew it needed to carry (Defense Daily, Dec. 9 2020).
"This is very, very different for how the Army has done, or how anyone has done, vehicular programs in DoD. We are breaking new ground here and it is bearing fruit at this point," Coffman said. "This is a really big deal. And we're hoping to learn some lessons that can then be applied across the entire spectrum of acquisition and requirements writing. That's the secondhand benefit of this."
Shortly before the end of Phase 2, the Army will release the RFP for work on Phases 3 and 4 with another full and open competition that will allow vendors who either did not submit a bid now or were not selected to have another shot at offering their design.
The Army's plan is to downselect to a single vendor for OMFV production in late FY '27.