South Korea's Hanwha announced Monday it has partnered with Oshkosh Defense
[OSK] on its proposal to compete for the Army's Optionally Manned Fighting Vehicle (OMFV) program.
"Bringing together the heritage of two innovative, reliable, and successful land systems companies, gives me great confidence that Hanwha and Oshkosh, with our other consortium partners, will deliver the next generation Infantry Fighting Vehicle the American Soldier clearly deserves," Ret. Army Lt. Gen. Bernard S. Champoux, head of Hanwha Defense's U.S. operations, said in a statement.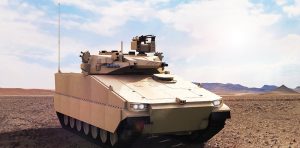 Oshkosh Defense confirmed to Defense Daily on Friday it had submitted a proposal for the rebooted Bradley replacement competition, but declined to specify details of its offerings or name any specific partners (Defense Daily, April 16).
The teaming agreement will bring together Hanwha, a global supplier of combat vehicles, with Oshkosh Defense, which does not build tracked armored vehicles but does produce platforms such as the Army and Marine Corps' Joint Light Tactical Vehicle.
Hanwha noted the partnership follows the company's success moving forward in Australia's multi-billion dollar Land 400 Phase 3 future infantry fighting vehicle competition, where its modernized Redback platform is one the final competitors. Australia is set to make a final acquisition decision in 2022 (Defense Daily, Sept. 19, 2019).
The company said it has delivered over 7,000 combat vehicles to South Korea, Malaysia, Norway, Finland, Estonia, Poland, Turkey and India, and noted that any future production work for OMFV would be done in the U.S.
Germany's Rheinmetall, BAE Systems and General Dynamics [GD] have also previously confirmed submitting proposals for OMFV, ahead of the Army's deadline on April 16.
The Army will award up to five contracts for OMFV digital designs in June, which will be graded on their conceptual approach and capability to meet nine flexible characteristics as well as the ability to incorporate modular open systems architecture into their proposals.