The Navy began its first joint unmanned and manned capabilities fleet battle problem exercise on April 19 off the coast of San Diego, Calif.
The exercise is led by U.S. Pacific Fleet, executed by the 3rd Fleet, and is called Unmanned Integrated Battle Problem 21 (UxS IBP21). The event aims to "generate warfighting advantages by integrating multi-domain manned and unmanned capabilities into the most challenging operational scenarios," the Navy said.

The exercise is expected to run from April 19 through April 26.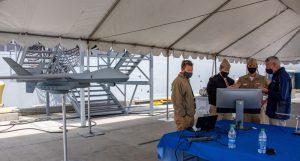 The Defense Department first announced this exercise last September. Rear Adm. Robert Gaucher, director of Maritime Headquarters at the U.S. Pacific Fleet, said the exercise aimed to demonstrate how to align U.S. Indo-Pacific Command directives to use experimentation to drive lethality (Defense Daily, Sept. 10, 2020).
While various Navy theater groups have been running these kinds of battle problems to work on key operational challenges, this will be the first of its kind combining unmanned and manned systems together to see what future fleets might look like.
Last month, U.S. Navy spokesman Lt. Tim Pietrack told Defense Daily the exercise will be led by the Zumwalt-class destroyer USS Michael Monsoor (DDG-1001), which will command and control both manned and unmanned forces "to conduct long-range, multi-domain fires," (Defense Daily, March 26).
This fleet battle problem will include the MQ-8B Fire Scout unmanned aerial vehicle (UAV), MQ-9 Sea Guardian UAV, Medium Displacement Unmanned Surface Vessels Sea Hunter and Sea Hawk, and booth small and medium unmanned undersea vehicles with modular payloads.
"Building off advances achieved over the past decade in unmanned aviation, Pacific Fleet is answering the Chief of Naval Operations' drive to put the Navy's Unmanned Campaign Plan into action," Gaucher said in a statement April 16.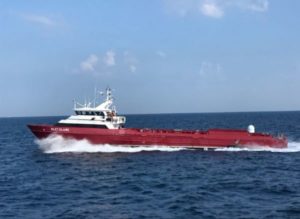 The department said this exercise will directly inform developers, warfare centers and warfighters to further incorporate unmanned systems in regular fleet operations and battle plans.
"The overall goal is to integrate our unmanned capabilities across all domains to demonstrate how they solve CNO and Fleet Commander Key Operational Problems. To get after these problems, UxS IBP21 will include maneuvering in contested space across all domains; targeting and fires; and intelligence, reconnaissance and surveillance," Gaucher added.
"Our unmanned systems are a great force multiplier for our Navy. They bring a lot of capability to the Fleet that we didn't have before we had them and they allow us to do missions without putting people at risk," Acting Secretary of the Navy Thomas Harker said on April 16 during a distinguished visitor day at Naval Base San Diego ahead of the event.