The Navy's 5th Fleet's Task Force 59 was stood up on Sept. 9 to help test and integrate unmanned systems into the service, following previous ongoing efforts.
The new task force comes after the Navy previously established
Surface Development Squadron One (SURFDEVRON) in 2019 in San Diego to conduct experimentation with new surface warfare capabilities and concepts like unmanned vessels (Defense Daily, May 24, 2019).
Vice Adm. Brad Cooper, commander U.S. Naval Forces Central Command (NAVCENT), U.S. 5th Fleet and Combined Maritime Forces (CMF), said in a phone press roundtable Sept. 8 that "the bottom line on why we're doing this is so that we can develop and integrate unmanned systems and AI at the means to do two things: One, enhance our maritime domain awareness and two. increase our deterrence."
The Central Command/5th Fleet area of operations includes the Persian Gulf, Arabian Sea, and Red Sea.
The new effort will be led by Capt. Michael Brasseur as commodore, who added the goal is to expand the operational use of unmanned systems in the region and experiment with concepts of operations.
Cooper noted Task Force 59 will be "taking efforts from across the Navy, concentrating them here, in the forward operating environment and the forward fleet to rapidly move toward development integration."
"For unmanned, we want to put more systems out in the maritime domain above, on and below the sea. We want more eyes on what's happening out there and in addition to the awareness we generate through our command platforms and continue to patrol the region today," Cooper added.
He noted AI within the task force will be used to help process and sort the raw data coming in via naval sensors and they do not aim to merely increase the amount of information the fleet has.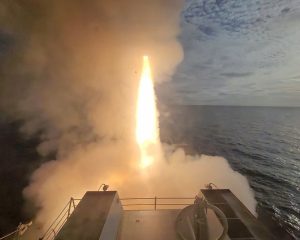 Cooper said this task force will operate in the 5th fleet region because "our belief is if the systems can work here, they can probably work anywhere else and we can scale it across other fleets."
He argued the region is "very maritime centric" with long coastlines and three strategic chokepoints as well as rugged environments.
Cooper underscored recent statements by the Chief of Naval Operations (CNO) that speed matters in integrating unmanned systems to the force.
"It really does and so evaluating these systems to real world applications is exactly what will help us accelerate the technology development and integration across the fleet moving faster."
The day after the Navy revealed this 5th Fleet task force, the CNO announced the service is creating a new unmanned task force similar to Task Force Overmatch to help make unmanned systems integration a reality by the end of the decade (Defense Daily, Sept. 9).
Cooper said the Task Force 59 effort has been "clutched in with the Navy staff-led unmanned process," with Brasseur on the Unmanned Task Force team, so they are all on the same page and working together.
He said the 5th Fleet's current use of unmanned aerial systems like MQ-1 Predators will now be augmented with unmanned surface and undersea vessels over the next six months.
"We haven't had them in the past, we have them now. It will be augmented with even more unmanned undersea vessels. We've had some in the past, we're going to have a lot more in the future."
Cooper said the task force will conduct a series of small experiments and operations leading up to a large exercise, IMX 22, planned for January and February 2022.
"It's the 5th Fleet's largest exercise that we do and a very significant portion of that will be focused on unmanned. We've invited leadership in unmanned systems from more than 60 countries to join us, I think many will…We'll move from a largely aerial unmanned focus to a multi-domain focus here in a six-month period."
He said in the coming weeks and months the task force will conduct a series of small scale exercises leading up to IMX 22.
"Some of the exercises will include unmanned operating by itself, we'll also have unmanned and manned platforms integrating and we'll have unmanned, manned with partner nations in an integrated effort. So we'll be very much modeling an operational environment so that we can quickly roll into a parallel process of developing the operational concepts of using this new technology."
Cooper and Brasseur did not disclose which specific unmanned surface and undersea vessels will join Task Force 59, only saying it will be multidomain.
"We'll have [intelligence, surveillance and reconnaissance] capability both on the sea and under the sea and then as time goes forward we'll talk a little bit about what the kinetic options will be and I'll kind of leave it right there for right now."
However, Cooper said they are essentially taking systems used in the Unmanned Integrated Battle Problem (IBP) 21 earlier this year "and capturing lessons from them and then bringing it very quickly into an operational environment. So many of the systems that were used as experimentation there will now be used here in an operational context, building on that process."
"We'll put them to sea and we'll give them a good run here in-theater. First from just a theater orientation and then move them to an operational realm as we refine the operational concepts."
IBP 21 was led by Pacific Fleet, executed by 3rd Fleet and aimed to demonstrate how to align Indo-Pacific Command directives to use experimentation to increase lethality. In the exercise, unmanned systems helped guide an SM-6 to a target from beyond line of sight.
Unmanned systems that participated in IBP 21 included the Leidos [LDOS]-built medium-displacement unmanned surface vessels (USV) Sea Hunter and Sea Hawk, Northrop Grumman [NOC] MQ-8B Fire Scout Unmanned Aerial Vehicle (UAV), General Atomics MQ-9 Sea Guardian UAV, Office of Naval Research Super Swarm project, the Platform Aerospace Vanilla Ultra-Long Flight Endurance UAV, and the Ocean Aero Triton-Class Dual-Modality underwater and surface autonomous vehicle (Defense Daily, April 20).
Brasseur noted the latest effort is "about building trust between the human and the machine and that process that the admiral just described, we'll run the machines through the paces, we'll build trust, and then we'll put them on operational missions."
Cooper said Task Force 59 is completely aligned with the Unmanned Campaign Plan.
The initial design for this task force occurred in July and "we used the Unmanned Campaign Framework as the framework to design this particular task force. So that was our basic structure."
Cooper also said that while the fleet is currently adequately resourced for this effort, if they think they need more resources in the future, they will request them.