The Navy program manager for unmanned systems said new unmanned surface vehicles (USVs) will have a range of manning as they are being developed.
"Our Medium USV [MUSV] prototype is essentially unmanned. There's… a pilot house but no accommodations," Capt. Pete Small, Unmanned Maritime Systems Program Manager (PMS 406), said on Jan. 13 during the virtual Surface Navy Association Symposium.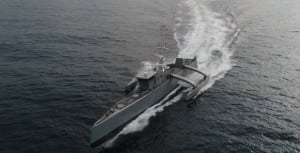 Small said there are things the Navy knows it cannot do completely unmanned with the MUSV yet, including getting it underway from the pier, bringing it back to the pier, refueling events, and anchoring. The pilot house allows personnel to perform those functions while the main sailing events can occur unmanned, "with no enduring accommodations for people to stay onboard."
The Navy is using the Sea Hunter MUSV at Surface Development Squadron One while a second ship, called the Sea Hawk, is scheduled for delivery later in 2021.
In contrast, the Large USV (LUSV) program does intend to have accommodations for an undisclosed number of sailors needed for reasons not necessarily including vessel operations.
"So for payload security, test and evaluation, there might be a need to have people onboard a Large USV in a [concept of operations]-driven environment," Small said.
Similarly, the Overlord USV prototype vessels "are essentially optionally manned" with personnel onboard during its recent long transits.
The Navy also disclosed that a DoD Strategic Capabilities Office (SCO) Overlord USV recently traveled 4,700 nautical miles, almost entirely autonomously, before participating in exercise Dawn Blitz, which also was conducted almost entirely autonomously.
During the Dawn Blitz exercise, the Navy said the overlord USV operated autonomously for over 130 hours and sailed about 950 nautical miles, accounting for about 98 percent of its underway time.
The Navy said the autonomy covers not only straight passage through the ocean but collision avoidance and following the rules of sea transit.
"We have the ability to operate them remotely and, I'll say, semi-autonomously to allow us to make advancements in demonstrating that autonomy capability while continuing to have people onboard for safety and technology readiness considerations."
Small said it is too early to say what the manning configurations will be for final designs and vessels, "but we are investigating a range of options via our prototyping efforts."