Army Chief Of Staff Gen. James McConville said Tuesday the service won't "have a dollar to waste" as it pushes ahead with its more than 30 signature modernization programs while facing a tighter budget environment in the coming years.
Beyond divesting of legacy systems, McConville said he also believes the Army will find savings with its shift to focus new platform development around broader "characteristics" rather than more stringent requirements that could help avoid program delays.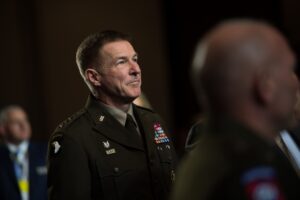 "We believe we're going to save a lot of money from this. It's going to be much more efficient," McConville said during an Association of the United States Army discussion. "And as I talk publicly to our industry partners, it's very, very important that if you have a program that it's on cost, on performance and on schedule. We don't have a dollar to waste with the budget environment that we're going into."
The Army's rebooted Optionally Manned Fighting Vehicle competition is built around this concept, asking industry to provide insight on how their proposed vehicle would meet a list of nine "characteristics of need," on topics such as survivability and mobility, rather than providing a prescribed list of required metrics (Defense Daily, Dec. 18). 
The new approach follows the Army's decision to cancel the original acquisition effort for the Bradley replacement program, which faced scrutiny after only a single bid sample was selected and officials discussed a need to bolster industry input in shaping OMFV's eventual requirements.
"We're taking a different approach now. We're working very, very closely with industry. And the way we do it is we describe characteristics, so they can come back to us and show us how they can meet those characteristics. And as we go through the process of initial design to a full design to building a prototype, industry is investing with us and it's in their interest to develop a program that we know, when we get to the requirements, that they can field," McConville said.
McConville reiterated the Army will have to continue divesting of legacy systems to fully fund modernization efforts, and is asking for industry's support to "not hold us back by working to invest in old systems."
"We're going to have to divest of older systems. If we want to modernize or transform the Army, we can't buy old new stuff. And what do I mean by that, a lot of people are very comfortable and they want us to buy things that are really 40, 50, 60 years-old capabilities. And those are wonderful systems but we can't afford both. We have to invest in the new systems, that means we're going to have to divest of legacy systems," McConville said.
Ryan McCarthy, the outgoing Army secretary, has previously said officials will have to make "borderline contentious" divestiture decisions in coming years facing likely flat or declining budgets (Defense Daily, Oct. 7).