The Army on Friday officially opened the competition for its second attempt at the Optionally Manned Fighting Vehicle (OMFV) program, refocused around an initial digital design phase to increase participation and bolstering industry's opportunities to shape the vehicle's requirements.
Officials told reporters responses to the Request for Proposals (RFP) for OMFV phase two, which will culminate in awarding up to five contracts for digital designs in June, will be graded on their conceptual approach and capability to meet nine flexible characteristics as well as the ability to incorporate modular open systems architecture into their proposal.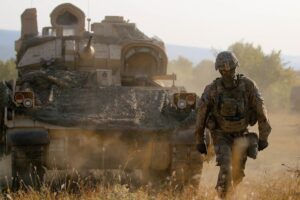 "This is a digital concept only. No prototypes. No bid samples. And those digital concepts will be improved between industry and the government working together with soldier input," said Brig. Gen. Ross Coffman, director of the Next Generation Combat Vehicle Cross Functional Team. "We're not going to put a nail in a single requirement until we have to, that allows industry to continue to innovate. It allows the government to maximize what the technological advances are, and it also enables us to ensure that we do not move the goal post inadvertently and cause re-work or additional schedule for industry."
Earlier this year, the Army canceled the original acquisition effort for the Bradley replacement program, which faced scrutiny after a single bid sample from General Dynamics [GD] was accepted for the program's prototype phase.
The rebooted competition is built around a multi-phased approach beginning with Friday's RFP for digital designs and contract awards in June, before downselecting to three vendors for "detailed digital design" in future phases and ultimately choosing a single vehicle for production in fiscal year 2027.
The RFP asks industry to provide insight on how their proposed vehicle would meet a list of nine "characteristics of need" rather than a list of more stringent requirements, with the Army placing survivability and mobility as the top two highest priorities and bringing flexibility to areas such as weight, fuel capacity, speed, etc.
"The characteristics really get after what industry's been telling the United States government for a long time. That is, tell us what problem you're trying to solve and let us innovate and provide you with the optimal solution," Coffman said.
Brig. Gen. Glenn Dean, program executive officer for Ground Combat Systems, said the RFP also highlights the Army's key focus on finding designs with capacity for modular open systems architecture to allow rapid integration of future technologies.
"Our future capability is largely going to be driven by our ability to rapidly insert capability digitally through software," Dean said.
The Army is planning to establish a consortium for open systems architecture development in January that will work in parallel to OMFV Phase Two, and could look to create an architecture that is applied across the services' combat vehicles, tactical vehicles and robotic systems.
To further boost participation, including from potential international vendors, the Army has removed any classified material from the initial process.
Dean said any foreign prime contractor would need plans to ensure the vehicle would be produced in the U.S., while adding the response from international vendors has "been very promising."
"We've at least heard from or had participation from all the major companies in the West capable of doing full combat vehicle design. We've had companies from Israel, Singapore, Germany in addition to companies you're familiar with in the U.S. who have done our traditional combat vehicles but also some companies that operate in the defense space but traditionally haven't been combat vehicle suppliers," Dean said. 
Germany's Rheinmetall, which had its bid disqualified in the first attempt at OMFV, announced in October it was partnering with Textron [TXT] and Raytheon [RTN] to offer its Lynx infantry fighting vehicle (Defense Daily, Oct. 20). 
Industry has until mid-April to respond to the RFP.