Oshkosh Defense [OSK] has submitted a proposal for the Army's Optionally Manned Fighting Vehicle (OMFV) program, a company official has confirmed, while General Dynamics
' [GD] Land Systems business has detailed its team vying for the rebooted competition.
"We have built a consortium of experienced and innovative industry leaders who bring technical diversity and maturity to our team and we're confident that we will deliver the next generation Infantry Fighting Vehicle the American soldier clearly deserves," Pat Williams, Oshkosh Defense's vice president for Army and Marine Corps programs, told Defense Daily.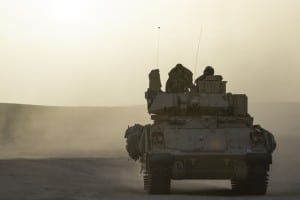 Oshkosh Defense, which currently manufactures the Army's Joint Light Tactical Vehicle, did not offer details on the design and it would not specify the partners it has teamed with on its proposal.
Meanwhile, General Dynamics Land Systems (GDLS) said its team for OMFV includes the company's Mission Systems business, unmanned aerial vehicles firm Aerovironment [AVAV] and artificial intelligence and autonomy developer Applied Intuition.
"The expertise and investments of each team member complement future OMFV capabilities and allow early understanding of what it will take to integrate truly transformational capabilities into the platform," Ray Kiernan, the GDLS' OMFV director, told Defense Daily.
GD and BAE Systems both announced their plans to compete for OMFV last Thursday, joining Germany's Rheinmetall, which originally announced its intent to offer its Lynx fighting vehicle platform for the program back in October (Defense Daily, April 15).
On Wednesday, L3Harris Technologies [LHX] announced it had joined Rheinmetall's OMFV team which already included a roster of Textron Systems [TXT] and Raytheon Technologies [RTX] (Defense Daily, April 14).
BAE Systems said Elbit Systems of America [ESLT] is working on its OMFV proposal, including providing the design of the vehicle's integrated turret.
Science Applications International Corp. [SAIC] will not pursue the Army's rebooted Optionally Manned Fighting Vehicle competition as either a prime contractor or a subcontractor, company spokesperson Lauren Presti confirmed to Defense Daily on Friday.
GD was the sole competitor to submit a physical bid sample during the Army's first attempt at the Bradley replacement program, before the service canceled the original acquisition effort in January 2020.
Kiernan pointed to the Army's decision to refocus the OMFV development process on more flexible characteristics rather than stringent requirements as a key attribute of the rebooted program.
"General Dynamics Land Systems enthusiastically embraces the iterative and cooperative development approach the U.S. Army is applying to the OMFV program. Starting with the nine Characteristics of Need over a traditional requirement set will enable industry to cooperatively arrive with the Army at the best performance specification for this program heading into the later design and prototype phases," he said. "GD offers state-of-the-art tools, processes and discipline, combined with a model-based approach in this digital environment, which is exactly what the Army is looking for in this phase of the program."
The Army will award up to five contracts for OMFV digital designs in June, which will be graded on their conceptual approach and capability to meet nine flexible characteristics as well as the ability to incorporate modular open systems architecture into their proposals