The Army's next Project Convergence (PC) demonstration will include a focus on determining the role for future robots to either compliment activities currently performed by soldiers, or in some cases, replace human operators entirely, a lead official said last Thursday.
Maj. Gen. Ross Coffman, director of the Next-Generation Combat Vehicle Cross Functional Team, said the second annual PC event taking place this fall at Yuma Proving Ground in Arizona will scale up the number of robots from less than five systems up to 12 robots.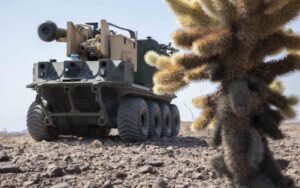 "Some are a little smaller, some are larger. All of them are equipped with UAVs. We brought the leader-follower vehicles out there, the control vehicles. But there's a lot of effort going [on] to determine what's the best way to use robots. Is it additive so we do everything we're doing as humans but we add capability or does it substitute human action? That's really the question," Coffman said during an Association for Unmanned Vehicle Systems International discussion.
Project Convergence is the Army's effort to bring together future capabilities, artificial intelligence-enabled systems and a new "computer brain" to prove out capacity for passing targeting data in a matter of seconds.
Coffman is currently overseeing the development of the light and medium Robotic Combat Vehicle development programs, with plans to use data gathered from PC '21 to inform critical requirements for future ground robots.
PC '21 will include assessing autonomous resupply with robots moving supplies across logistics areas, as well as pitching computer vision tools against Light Detection and Ranging (LIDAR) technologies to look at reducing robots' signatures.
"My problem has always been with LIDAR that it works exceptionally well, we all know that, but the enemy can see it. There's a signature," Coffman said. "It's kind of a Ford versus Ferrari [situation]. We're going to see which one works better."
Robots will also be used at PC '21 to further the Army's progress on developing capacity for aided target recognition.
"It's always been my goal to have sensors armed with algorithms that could identify enemy vehicles by type and geolocate them. And then we'd aggregate that information onto a common interface that everyone can see while a [computer] brain in the background determines what the ideal effect is that can be placed on that solution delivery," Coffman said.
PC '21 will also provide an additional opportunity to assess the government-developed robotic technology kernel, or RTK, autonomy software.
"All of our robots that we're building on this side and in the [science and technology] efforts, one thing has remained consistent and that's we want them to be payload agnostic. You have the capabilities inherent in the vehicle and you have the RTK, the technology kernel that is allowing us to autonomously move across the battlefield," Coffman said.
The Army said last month it has started integrating the RTK autonomy software on the prototype offerings for both the light and medium Robotic Combat Vehicles.