The Army has selected five small businesses to refine concepts for delivering a faster rate of fire for the future Extended Range Cannon Artillery (ERCA) system, while the service continues a parallel effort on its own autoloader with a key demonstration planned for September.
Senior program officials provided an ERCA update to reporters last Thursday, including plans to accept another group of test systems shortly which will undergo two years of testing before delivering 18 prototype capabilities to a battalion in late 2023.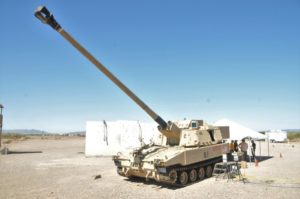 "We're in good shape to deliver the platforms in the fourth quarter of '23 along with the ammunition, which is just as challenging from a technical and schedule standpoint," Brig. Gen. John Rafferty, director of the Long Range Precision Fires Cross-Functional Team, said during a media roundtable.
ERCA, which involves putting a 58-caliber, 30-foot gun tube on BAE Systems' M109A7 self-propelled howitzer chassis, is designed to hit targets out to 70 kilometers and the ability to fire six to 10 rounds per minute, using XM1113 rocket-assisted projectiles with a supercharged propellant for ammunition.
The first production ERCA systems are expected to be fielded in 2025, Rafferty noted, while confirming that the Army's initial goal to roll out the government-designed autoloader by 2024 "is not a viable option for us anymore."
"And that's okay. The guidance we got from the senior leaders was range and lethality and then rate of fire when we're ready with the right alternative to provide to our soldiers and units in the field," Rafferty said.
Rafferty reiterated the Army's two paths to increasing the rate of fire are focused on continued work on the 23-round capacity autoloader along with the innovative ideas being developed out of Fire Faster Cohort, an Army Applications Lab-led Special Program Awards for Required Technology Needs Small Business Innovation Research program.
"That 23-round autoloader we continue to believe is the sweet spot for weight, for onboard kills and for rate of fire," Rafferty said, noting a larger version of the system was tested recently. "That was very impressive in terms of delivering a high rate of fire in a couple of three-round missions. Again, it was a very encouraging demonstration of an early capability. We're going to continue the maturation of the technology as we scale it down into this 23-round autoloader spot."
The Fire Faster Cohort began with 15 ideas and has now been pared down to five small businesses who will each work for up to 24-months on building towards Technology Readiness Level 5 or 6 prototypes.
"We recognized the answer isn't 'we need an autoloader.' Really, what we want is a higher rate of fire and if there are alternative ways to do that then we should evaluate those," Rafferty said. "We want to continue that valuable operator/engineer cycle of learning and experimenting and feedback."
The five small business firms, who will each be eligible for up to $2.5 million in funding, are H.A. Eckhart & Associates, ARM Automation, Carnegie Robotics Tactical, Dynovas Inc. and RE2 Inc.
"What we wanted to know was more about the trades and potential solutions for automating key bang-for-the-buck components within the [ERCA] cab to support targeted technology improvements," Col. Tim Fuller, project manager for Self-Propelled Howitzer Systems, told reporters. "These best-in-class small businesses suggested very innovative, very promising solutions and we are all excited to see more as we continue to prototype and integrate through Phase Two."
While the officials declined to detail specific ideas the Fire Faster companies were working on, Fuller said the ultimate goal is to understand the potential for automating specific components within the ERCA cab from the handling of ammunition to loading fires.
"It's a solution that's between all-manual and nearly all-automated and we have best-of-breed firms where some are [working on] all-in-one solutions and others that get after a niche area," Fuller said. "What we're really talking about is automating areas in the ready rack, which is the rack that is in the cab that stores the ammunition, and the propellant and the fuzes that are about to be loaded and fired. It's automating the ready rack so that we perform a lot of the manual tasks that go on to preparing rounds to be fired."