The Navy's top officer in charge of developing unmanned vehicles this week said the Northrop Grumman [NOC] MQ-4C Triton unmanned aerial vehicle (UAV) based in Guam is doing better than they expected over a year into its initial deployment.
The Navy's initial two Tritons arrived in Guam in January 2020 under the first MQ-4C UAV squadron, Unmanned Patrol Squadron (VUP) 19 as part of its early operational capability (EOC). When the aircraft were first deployed the Navy said the deployment would help develop concept of operations and fleet learning for the high altitude unmanned maritime aircraft (Defense Daily, Jan. 27, 2020).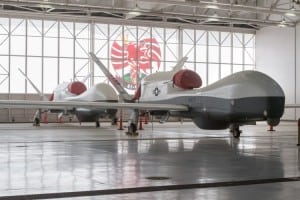 "We just finished a two hour review with the Navy's air boss, Vice Adm. [Kenneth] Whitesell on how Trident is doing," Rear Adm. Brian Corey, Program Executive Officer for Unmanned Aviation and Strike Weapons said during a virtual AUVSI Unmanned Systems Defense event April 14.
Corey underscored that "anyone who has operated an air force knows that airplanes work and then they break and we have an air force of two and we put Trident out there with an early operational capability knowing that we didn't have a fully fleshed out set of depot level maintenance and that sort of thing."
The aircraft's deployment occurred later than planned due to previous mechanical issues. In 2018, one Triton crashed due to a landing gear not deploying properly (Defense Daily, Sept. 13, 2018). The damage was estimated at costing over $2 million and was classified as a Class A mishap.
Before the 2018 crash, the MQ-4C was expected to reach EOC in 2018 and then achieve initial operating capability (IOC) in 2021. IOC will consist of four aircraft with a multi-intelligence sensor suite that raises it to a top secret signal intelligence architecture (Defense Daily, April 9, 2018).
The program had further delays in achieving IOC this year as the Navy looks to ensure the aircraft carry the right payload for users in the Pacific theater.
"So we have had some amazing success here over these last several months in terms of transitioning from – we got over there, we were able to fly, we were able to interact in the airspace until we could fly in the entire Pacific region. And so we got cooperation from our partners and now we are delivering the products that Trident is intended to deliver to the 7th Fleet and to the PACFPACFLEET commander," Corey said.
He added the Trident team is delivering the capability via the number of missions per month being requested.
The next step for the aircraft is proving they can operate beyond Guam.
"We will be working on that through the fall, while we finish up what we call IOC four, which is the follow-on capability for Trident. So Trident is doing very, very well. In fact, it's doing better than we expected in Guam," Corey said.
Tritons are designed to complement the Boeing [BA] P-8A Poseidon to aid in intelligence, surveillance and reconnaissance missions. VUP-19 is the Navy's first dedicated UAV squadron.
In March, the Navy awarded Northrop Grumman a $99 million modification to add an additional low-rate initial production Lot Five MQ-4C aircraft, raising the total Navy order to 15. The service plans to ultimately procure 68 production aircraft (Defense Daily, April 2).
During a March 18 House Armed Services Seapower and Projection Forces Subcommittee hearing, acting Assistant Secretary of the Navy for Research, Development and Acquisition Jay Stefany said 19 more vehicles were on contract with Northrop Grumman, including one Congress mandated in the fiscal year 2021 budget.