The Chief of Naval Operations (CNO) directed the establishment of the first MQ-25A carrier aerial refueling unmanned aerial vehicle (UAV) squadron to occur next year, ahead of initial vehicle deliveries.
This squadron, Unmanned Carrier Launched Multi-Role Squadron -10 (VUQ-10), is set to be established by Oct. 1, 2021.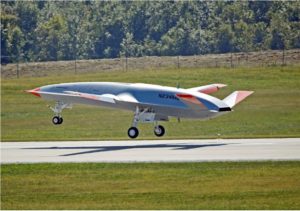 According to an internal OPNAV notice dated Aug. 20, VUQ-10 will be based at Naval Base Ventura County, Calif., and will support the program of record timeline, milestones, and operational requirements "to support timely delivery of MQ-25A air vehicle operators to the fleet."
The pre-establishment date is set for FY 2022, which begins in October 2021. The notice said this pre-establishment date is needed to allow personnel time to attain advanced qualification before aircraft delivery.
The notice said the mission of VIQ-10 will be "to conduct, through self-sustaining detachments, long-range aerial refueling support to joint force maritime component commanders, carrier strike groups, and naval task forces as directed by numbered fleet commanders."
The chain of command for VUQ-10 will have it fall under the Airborne Command & Control Logistics Wing (ACCLOGWING).
The Navy plans to ultimately procure 72 total aircraft.
Boeing [BA] is developing and building the MQ-25A under a 2018 $805 million engineering and manufacturing development contract for development, production, and testing of the first four aircraft (Defense Daily, Aug. 30, 2018).
Earlier this year, the company won an $85 million modification to procure three more Stingrays as system demonstration test articles, ready by August 2024 (Defense Daily, April 3).
The Navy is targeting MQ-25A initial operational capability for 2024 and Boeing is currently conducting test fights with its test asset, named T-1.
In July, Assistant Secretary of the Navy for Research, Development and Acquisition James Geurts told reporters he visited the T-1 on a trip to the Boeing facility in St. Louis and said EMD vehicle production would start soon (Defense Daily, July 30).