The Army is looking to procure 100,000 single-channel radios to support its future augmented reality headset program, the Integrated Visual Augmentation System (IVAS), according to a recent Request for Information notice. 
The service said it plans to begin purchasing production-ready radios in the first quarter of fiscal year 2022, with deliveries to begin as soon as June 2022.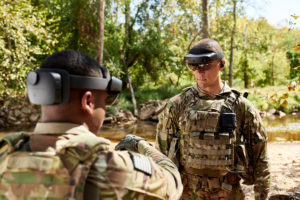 "Project Manager for Tactical Radios seeks industry interest regarding availability of Single Channel Data Radios to meet data transport requirements for dismounted Soldiers by providing mobile, ad-hoc mesh networking," officials wrote in the RFI. "The Single Channel Data Radios will provide a small form-factor solution to transport Tactical Assault Kit data between dismounts in order to provide enhanced situational awareness."
IVAS, which is developed by Microsoft [MSFT] and based on the company's HoloLens 2 headset, is currently undergoing soldier testing with a first unit equipped date planned for late FY '21.
The Army said its objective requirement for the radio's unit cost is $500, with a threshold requirement for $3,000. Officials are also seeking an operating range of up to 1.5 kilometers. 
Earlier this year, the Army said it delayed the latest IVAS soldier touchpoint from the summer to October due to the pandemic, with the event set to inform a low-rate production decision (Defense Daily, April 22). 
A fourth and final IVAS soldier touchpoint is planned for spring 2021, where soldiers will test the system at the company level in a range of combat scenarios and with a focus on shoring up network integration considerations.