Germany's Rheinmetall has added
L3Harris Technologies [LHX] to its team vying for the Army's Optionally Manned Fighting Vehicle (OMFV) program, the companies announced Wednesday, bringing on the electronics firm to provide its modular open systems architecture (MOSA) and mission systems for the Lynx vehicle offering.
L3Harris' new teaming agreement with American Rheinmetall Vehicles to jointly work on the offering for the OMFV programs adds the company to a roster that already includes Textron Systems [TXT] and Raytheon Technologies [RTX] as key development partners.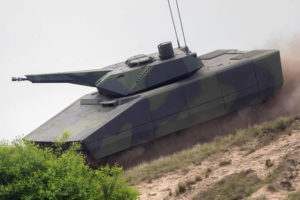 "We have a long history providing similar support to multiple platforms using our MOSA approach for mission systems and electronic warfare," James Gear, L3Harris' vice president for domestic business development, said in a statement. "We look forward to working with American Rheinmetall Vehicles to further expand into the ground defense vehicle market."
Rheinmetall is first out of the gate to detail its offering and team for OMFV, initially announcing its interest in October, with the Army's proposal deadline to compete in the OMFV digital design phase coming up on April 16 (Defense Daily, Oct. 20). 
"We are excited to have L3Harris join our growing team to support the U.S. Army's OMFV program," Mathew Warnick, managing director of American Rheinmetall Vehicles, said in a statement. "Their experience in open architecture, communications, and cybersecurity bring tremendous capability to the American Rheinmetall Vehicles team as we prepare our digitally engineered OMFV to provide our Soldiers overmatch now and for the future."
OMFV is the Army's program to replace its Bradley fighting vehicles, with the service canceling its original acquisition earlier this year, which faced scrutiny after a single bid sample from General Dynamics [GD] was accepted for the program's prototype phase.
During the first attempt at OMFV, Rheinmetall partnered with Raytheon to offer Lynx but was ultimately disqualified after it was unable to meet a deadline for delivering a bid sample.
The Army has emphasized MOSA as a key component for OMFV as the service looks to build in capacity to easily integrate new technologies, with L3Harris adding it will leverage a design approach based on prior experience working on previous modular open aviation and ground programs. 
"The agreement combines L3Harris' open system design and equipment manufacturing leadership with the maturity and modularity of American Rheinmetall Vehicles' Lynx next-generation fighting vehicle for an OMFV offering that is low-risk and easily upgradable," L3Harris wrote in a statement. 
Maj. Gen. Ross Coffman, director of the Next-Generation Combat Vehicle Cross Functional Team, said last month the Army is expecting to 'maximize' the field of competitors for its rebooted OMFV competition to include interest from a range of traditional and non-traditional partners (Defense Daily, March 15). 
The Army will award up to five contracts for OMFV digital designs in June, which will be graded on their conceptual approach and capability to meet nine flexible characteristics as well as the ability to incorporate modular open systems architecture into their proposals.