Germany's Rheinmetall is looking to keep discussing options with the Army on participating in the Optionally Manned Fighting Vehicle
after missing the deadline to submit a bid sample for the vehicle it had proposed with Raytheon [RTN], a company official said on Monday.
Stephen Hedger, head of Rheinmetall's U.S. business, acknowledged reports that the two companies were unable to deliver a Lynx Fighting Vehicle bid sample for OMFV, and said the competition will require multiple vendors in the prototyping phase to meet the Army's search for a next-generation platform to replace its Bradley fighting vehicles.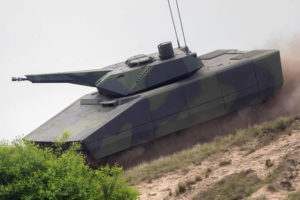 "What's been reported is not inaccurate," Hedger told Defense Daily at the Association of the United States Army conference in D.C.. "We're continuing to talk to the Army. We're committed to the Army. We're committed to that program. We have a truly ready-now next-generation infantry fighting vehicle."
Defense News first reported Lynx's disqualification from the OMFV program, noting that the bid sample vehicle was in Germany on the proposal deadline and unable to be delivered to Aberdeen Proving Ground in Aberdeen, Maryland.
General Dynamics [GD] said on Oct. 1 it had submitted a purpose-built vehicle for OMFV, and would remain as the only competitor in light of Raytheon and Rheinmetall's disqualification. 
Gen. Mike Murray, head of Army Futures Command, spoke to reporters on Monday afternoon and confirmed that the OMFV prototyping phase was currently down to one competitor.
"We have been exceptionally consistent and open to industry for the last year and a half  on what did we need, when bid samples were due. And we had a competitor that did not make that. It really put the Army in a hard place, because we can either delay and face possibly a protest or we can stick with what we've been saying for a year and a half," Murray said.
Murray reiterated that the Army's Next-Generation Combat Vehicle (NGCV) cross-functional team (CFT) is planning to reopen the OMFV competition when it moves towards a production contract, which he said would allow interested vendors to propose vehicles even if they did not participate in the prototyping period. 
Brig. Gen. Ross Coffman, director of the NGCV CFT, told reporters his team would not comment on the specifics of the prototype plan since the program has moved into competitive source selection. 
"What I can tell you is, we set threshold requirements on purpose. Whether we have anyone that has made a proposal that meets our threshold requirements, I don't know. I don't know where we stand with that. We have to wait and see. But if they do meet the threshold requirements, it's still going to be the best vehicle in the world," Coffman said. 
Hedger told Defense Daily that Rheinmetall's view is multiple competitors will be required for the prototype period, noting that the program is set up to up to two contracts for vendors to each deliver 14 test vehicles.
"It's certainly our belief that the most responsible path for the Army, going forward, is to look at the fact that they're down to a single vendor and ensure they have competition. This was a program designed to have multiple bids and two awards. In a competitive prototyping, non-developmental item program, they're down to a single potential award and with a lot of developmental risk," Hedger said.
Rheinmetall and Raytheon announced in late September the two companies had formed a new land systems joint venture to go after OMFV (Defense Daily, Sept. 27). Textron Systems [TXT] was also added to the Lynx team to serve as U.S. manufacturer for the vehicle's chassis.
The German manufacturer's Lynx would be outfitted with Raytheon's TOW missiles, an active protection system, third-generation FLIR technology and a Coyote unmanned aircraft system. 
Rheinmetall also announced last month the Australian government had selected Lynx and South Korea's Hanwha to move forward in its future infantry fighting vehicle competition potentially worth around $10.2 billion (Defense Daily, Sept. 19).