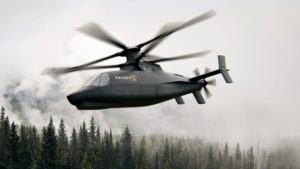 Lockheed Martin's [LMT] Sikorsky unveiled its Raider X design for the U.S. Army's Future Attack Reconnaissance Aircraft (FARA) on Oct. 14 at the Association of the United States Army annual conference. Raider X is a blueprint featuring a larger air frame than the S-97 compound coaxial Raider helicopter that the company has been flight testing with a modular open systems architecture (MOSA) desired by the Army for the aircraft's avionics and mission systems.
Raider X is to use the company's X2 rigid rotor technology for improved maneuverability, low-speed hover, off-axis hover, acceleration and braking.
Bill Fell, Sikorsky's experimental test pilot for the Raider, said that the Raider X will combine "the best elements of low-speed helicopter performance with the cruise performance of an airplane."
Sikorsky President Dan Schultz said that the company will leverage Lockheed Martin know-how that "will deliver the only solution that gives the U.S. Army the superiority needed to meet its mission requirements."
Thus far, X2 aircraft have achieved speeds in excess of 250 knots, altitudes greater than 9,000 feet, flight controls optimization and vibration mitigation, low-speed and high speed maneuverability envelopes out to more than 60 degrees angle of bank and Aeronautical Design Standard-33B Level 1 handling qualities, Lockheed Martin said.
In April the Army awarded Other Transaction Authority (OTA) for prototype agreements for the aircraft design, build, and test of FARA to five hopefuls: Sikorsky, Boeing [BA], an AVX/L3 Harris Technologies [LHX] team, Bell [TXT], and Karem Aircraft.
AVX/L3Harris are offering a coaxial-rotor compound helicopter, while Bell said its 360 Invictus offering will be based on the 525 helicopter design, and Karem Aircraft, which is teaming with Northrop Grumman [NOC] and Raytheon [RTN] has said it will apply its patented Optimum Speed Tiltrotor (OSTR) technology for its offering.
Boeing is the sole company of the five awardees that has yet to reveal details of its design. On Oct. 14 at the AUSA conference, Shane Openshaw, the Boeing FARA program manager, and Mark Cherry, the vice president and general manager of Boeing Phantom Works, told reporters that the Army is fully aware of the Boeing design and that Boeing will gradually publicize its design when it makes sense to do so, from a competitive perspective.
"The bottom line is we're leveraging 60 years of attack reconnaissance experience," Openshaw said. Fly-by-wire and survivability technologies will likely be an important part of the Boeing offering, as will an open systems approach.
The Army awarded Sikorsky the largest share of the FARA Competitive Prototype (CP) development program with a $938.4 million contract; followed by Bell, $790 million; Boeing, $772 million; Karem Aircraft, $738 million; and AVX, $732 million.
The Army describes FARA as a "knife fighter" helicopter that will fill the gap left by retiring the OH-58D Kiowa Warrior. The service said that FARA "will be capable of achieving and sustaining overmatch against potential competitors and enduring asymmetric threats by closing or mitigating gaps in Army aviation attack and reconnaissance."
A downselect to two contractors may come next March, and those two companies are scheduled to design competitive prototypes followed by a "government-sponsored fly off" in 2023.