The Navy awarded General Dynamics [GD] Electric Boat (EB) a $434 million contract on Oct. 11 for lead yard support, development studies, and design efforts for Virginia-class submarines.
The Defense Department explained this latest award covers lead yard support that will "maintain, update and support the Virginia-class design and related drawings and data for each Virginia-class submarine, including technology insertion, throughout its construction and post-shakedown availability period."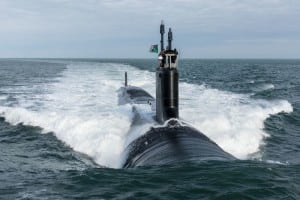 GDEB will also provide engineering and related lead yard support needed for direct maintenance and support of Virginia-class specifications as well as provide development studies and design efforts related to submarine design improvements, preliminary and detail component and system design, and integration of various engineering elements.
DoD underscored EB will keep working on development studies and design elements related to components and systems to accomplish research and development tasks, and prototypes and engineering development models required to fully evaluate new technologies to be installed on later Virginia vessels.
This work will mostly occur in Groton, Conn., and is expected to be finished by September 2020.
The contract was not competitively procured in accordance with federal acquisition regulations.
GDEB and Huntington Ingalls Industries [HII] build separate parts of the Virginia-class submarines then alternate work on the reactor, final assembly, test, and delivery.
In March, GDEB won a $2 billion award for additional material for FY 2019-2023 submarines, covering SSN-802-811. At the time, the Navy expected that award would be combined with a FY 2019 Virginia-class Block V ship construction contract that should have been awarded before the end of FY 2019. The fiscal year ended on Sept. 30 (Defense Daily, March 19).
The Navy plans to award a multibillion dollar multiyear contract to build 10 Block V vessels. The service's plans for all Block V submarines include superiority improvements and the addition of the Virginia Payload Module (VPM) with the second vessel.
In July, GDEB awarded BAE Systems a follow-on contract to produce 28 of these VPM payload tubes for the Block V. This means BAE will deliver seven sets of four tubes for each VPM on Block V submarines (Defense Daily, July 25).