WEST PALM BEACH, Fla. —Lockheed Martin's [LMT] Sikorsky has started building components of the Raider X helicopter, the companies' offering for the Army's Future Attack Reconnaissance Aircraft (FARA program) that is headed for a prototype downselect decision in March among five companies.
Sikorsky officials detailed the offering for the Army's program to find its next scout helicopter ahead of a flight test on Thursday with the S-97 Raider, which is an 80 percent model of what Raider X's eventual design.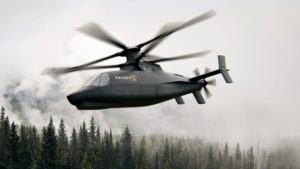 "We have the big things like the rotor heads being built, our fuselage is already being built. We're making a tremendous amount of progress on the build of the aircraft now," Tim Malia, the company's director for FARA, said.
When asked if Sikorsky is comfortable making the investment to beginning building a prototype before the Army has selected the two companies to move forward, Malia said he "doesn't anticipate that problem."
Last April, the Army selected Sikorsky, Boeing [BA], Bell [TXT], Karem Aircraft and a team of AVX [AVX] and L3Harris [LHX] to design and test FARA concepts.

The Army awarded Sikorsky the largest share of the FARA competitive prototype development program funding, with a potential to receive $938.4 million if the company is selected to continue on in March.
The FARA program is aiming for a first flight with the two prototypes in the fourth quarter of FY '22, with flight tests to run through FY '23.
Sikorsky has been flying the co-axial S-97 Raider for several years and has been using the technology demonstration platform to inform Raider X, including the rigid rotor system and reducing the parts needed for the rotor blades.
"Everything from architecture to the technologies, if you put the aircraft side-by-side they would look very, very similar. It's just that Raider X, for FARA, will be 20 percent larger," Malia said. "We've been flying this aircraft for several years, so we've generated a robust set of data. We know what the drag is. We know what the rotor performance is. Knowing all of that, when we do the scaling we're now just plugging in the new geometry into those models and validating it."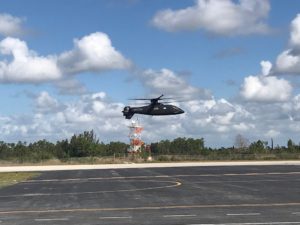 Bill Fell, the senior test pilot for the S-97, told reporters the the rigid rotor system allows for a "fighter jet-type response than a typical helicopter" feel and added that the aircraft has flown at 160 knots with its propeller off and up to 210 knots with the propeller engaged.
During Thursday's test flight, which was attended by senior Army leadership, the S-97 flew at speeds up to 180 knots.
Malia said there's a common misconception that a co-axial platform would be more expensive to maintain with double the rotor blades, noting that the Black Hawk's main rotor has 460 parts while the S-97 was trimmed to 225 parts.
"The engineering team that's designing Raider X, [the S-97] is an asset made available to them. They can write up data requests, flight test requests. They can send it down here, and these guys execute the test to generate the exact data that the designers want," Malia said. "Now all of a sudden the [Raider X] design is being optimized for the real world. We don't have to guess."