The head of the Navy unmanned systems office on Tuesday explained how the system engineering for unmanned surface vessels (USVs) is focused in six pillars and in sync with the Unmanned Campaign Plan framework. 
Most of the Navy's USV work is concentrated in PMS-406, unmanned maritime systems, and it "is approaching all of this in a rigorous way… we've been, along with our prototypes that are out testing now, we've been maturing our execution plans. They have a development plan that's well thought out in certain key areas," Rear Adm. Casey Moton, head of Program Executive Office Unmanned and Small Combatants, the parent organization of PMS-406, said during a virtual AUVSI Unmanned Systems Defense event.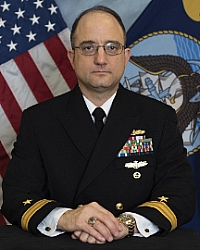 PMS-406 is first focusing its work on building high reliability into the hull, mechanical and electrical (HM&E) equipment via testing current prototypes at sea and land-based testing of HM&E. 
Moton characterized the first pillar of the development work as getting the land-based testing site plants ready for medium USV (MUSV) HM&E now and then it plans to prepare the plants to test different systems for large USVs later.
He said the Navy is currently executing funding received from Congress for land-based testing of MUSV HM&E work, which consists of buying the equipment needed for the testing. Moton noted while not all USV systems will have similar testing requirements, many autonomy issues will work for both sets of vessels.
"It is true that propulsion plants are not all the same, but a lot of the things that we are doing, the ability to control machinery plants autonomously…to do things that are relatively straightforward like shift the lube oil strainer without a human having to do it. Those things scale between medium and large. So a lot of what we're doing with medium is going to scale directly to large [USVs].
The Navy still has to work on plans for bigger pieces of equipment, particularly propulsion and electrical equipment. 
"We're still kind of working plans out, but our plan is to take representative pieces of equipment and to test them. I don't want to get quite yet into specifics of where that's going to happen or how that's going to happen because we're kind of working that out right now. But we are going to go down that path."
This means the service will have a set of equipment "that's essentially been through our qualification process to go on LUSV. But we are also trying to come up with a way that's flexible, where it can achieve our system engineering intent, achieve the certification requirements in the [defense authorization bill] but possibly allow industry to propose some alternate ways to do that."
Moton revealed the Navy is also working with the American Bureau of Shipping on that effort.
"We are working with them on a framework to essentially qualify equipment to meet the HM&E kind of standards that we need for unmanned."
The second pillar for the system engineering approach covers command, control, communications, computers and intelligence.
They are "making sure that we carefully test the C4I system that is going to allow our unmanned vessels to be part of this hybrid fleet," he said. "So, obviously for us a lot of that is about Overmatch and how unmanned vessels are going to be served by Overmatch but also be a principal component of Overmatch."
Moton referred to the Chief of Naval Operations-directed Project Overmatch to contribute to Joint All-Domain Command and Control by building a new naval operational architecture to better enable and connect various ships, including USVs.
Combat systems is another pillar of the system engineering effort. It is, "in a rigorous manner, taking the combat systems that we have and adapting them for use on an autonomous vessel," he said.
Moton reiterated weapons firing will always be done by a human, but they will work to ensure the system engineering is done properly. 
The fourth pillar is developing the unmanned common control system, which aims to eliminate redundant efforts and reduce costs by producing a common framework, user interface and components to control a variety of unmanned systems.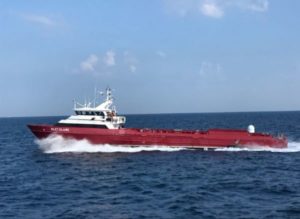 "This is truly an area where we are doing the 'solve it once and scale it up' [process]. Our initial prototypes were kind of the systems we bought from industry. We are all the time maturing that into a common system that's going to go in our program of record," Moton said.
Moton named the fifth pillar as perception and autonomy, comparing it to driving a car.
"We have a very rigorous plan that we're already executing with our prototypes – testing out the perception systems, testing out the autonomy that we need to do."
The final pillar is the prototyping work itself, divided into sea and land-based testing.
Moton acknowledged that this has "been a concern of Congress, and I think as we go forward we're going to be able to articulate that more clearly. But with each one of these we're going very carefully, we're doing the building blocks in a good system engineering manner, we're solving at once, we're going to scale it up like the framework says."
He underscored his office is on board with guardrails set out by the recently-released Unmanned Campaign Plan framework which will help get past congressional skepticism of moving quickly toward unmanned vessels.
Last month, the Navy and Marine Corps released an unclassified version of the framework to develop capabilities working across various unmanned platforms and not develop similar capabilities twice, but share systems when possible (Defense Daily, March 17).
"We are squarely onboard with solving each problem once," Moton said.

When officials speak to members of Congress, leaders like Chairman of the House Armed Services Subcommittee on Seapower and Projection Forces Rep. Joe Courtney (D-Conn.) and ranking member Rep. Rob Wittman (R-Va.) "go out of their way" to say they are not against unmanned systems overall, "but we want the Navy to do it in a measured way, in a very rigorous way and avoid some of the problems we've had in the past," he said.

Moton acknowledged specific concerns in legislative language about maturity of the machinery.
"We have adjusted and are continuing to execute our plans to address those kinds of things. To make sure we go in this measured way of rigorous systems engineering approach in each one of these areas and that we do what the plan calls build a little, test a little, learn a lot."
The Navy operates and tests several MUSV prototypes under the Navy's Surface Development Squadron One based in California. The vessels consist of the Leidos [LDOS] Sea Hunter and modified sister ship Seahawk medium displacements USVs, one Ghost Fleet Strategic Capabilities Office Overlord USV and a second to be operating under the squadron by the end of 2021.