After planned enhancements to platforms such as Abrams and Strykers received reductions in the Army's FY '23 budget request, a top service official said Thursday "they could" be considered for inclusion in a potential unfunded priorities list.
"We'll wait and see. Once that process comes out, we can take a look at it," Gen. James McConville, the Army chief of staff, told reporters. "One of the things I'm required to do as the chief is to provide recommendations if there's additional funds and where we would put them. And that could be a place where that could possibly happen."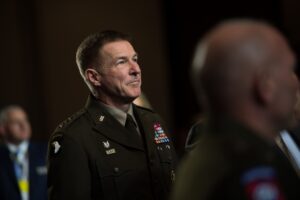 The Army's FY '23 budget request included making reductions to 32 programs, with officials citing Abrams and Stryker upgrades as examples of effort that had procurement rates slowed down to generate savings for modernization (Defense Daily, March 29).
Of the total $178 billion in the Army's budget request, $12.6 billion is specifically aligned with the Army's more than 30 new signature systems across its six modernization priorities.
"I'm pretty pleased with the funding that we have to keep the momentum going on those transformational six modernization priorities that we have," McConville said.
McConville noted the Army will continue incrementally improving platforms considered "enduring systems" as it pursues its modernization agenda, with a need to continually assess the proper balance of funding.
"The way I assess it, we're taking a measured approach. We need to have the Army ready today. We need to be ready for the future. So what we're trying to do is find that sweet spot," McConville said. "I was just down at Fort Stewart [in Georgia] and I saw the soldiers have the new tanks, they have new Bradleys, new howitzers, the new Joint Light Tactical Vehicle. They're very excited about those systems. They think they're great. They work extremely well."
The Army last year submitted to Congress a $4.4 billion unfunded priorities list for FY '22, which included requesting additional funds to procure more Joint Light Tactical Vehicles (JLTVs) and CH-47F Block II Chinooks as well as Abrams tank and Bradley upgrades (Defense Daily, June 2 2021).