The NATO Communications and Information Agency (NCI Agency) awarded Leidos [LDOS] two contracts worth over $47 million total for the alliance's ballistic missile defense (BMD) program, the organization said on March 31.
One contract, valued at about $33 million supports NATO upgrading its BMD capabilities over four years, with an additional four-year option period valued at another $33 million, potentially totaling $66 million.
A second contract calls for Leidos to implement a test bed to validate new BMD capabilities for NATO. This contract lasts four years as well and is valued at about $14 million with up to four option maintenance years that, if selected, would increase the total value by $7 million to $21 million total.
NATO and Leidos officials held a signing ceremony for the agreements on March 30, attended by NCI Agency General Manager Ludwig Decamps and Acting BMD Program Manager of Air and Missile Defense Command and Control Laurent Smith on the NATO side as well as Leidos Defense Group Vice President and C2ISR Division Manager Brock Harris and Senior Vice President and C4ISR Operations Manager Michael Rickels.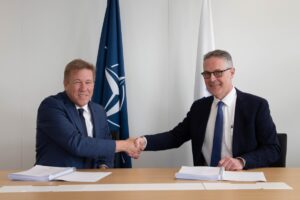 The agency said the BMD Program provides protection of alliance population, territory and forces by working with allies who volunteer interceptors, sensors, and information from command and control systems. The NCI Agency then "provides the critical NATO battle management command and control technology that connects them."
NATO said Leidos was selected for these contracts following international best-value competitions.
"These agreements are critical for the Agency's long-term plan to help NATO keep its edge. With the support of Leidos, the NCI Agency will strengthen the technology supporting NATO's ballistic missile defense for the years to come," Decamps said in a statement.
"We are honored to have the opportunity to continue our support to the NATO BMD Program. Our international team brings over 20 years of expertise in partnering with NATO, and we look forward to contributing to the enhancement of the Alliance's BMD capability," Rickels added.
This comes weeks after the State Department approved a potential $700 million Foreign Military Sale of a Lockheed Martin [LMT] Ballistic Missile Defense Radar (BMDR) and Command and Control Battle Management and Communications (C2BMC) systems to the United Kingdom. The Defense Security Cooperation Agency said the equipment would improve the U.K.'s ability to meet current and future ballistic missile threats to the U.K. and NATO (Defense Daily, March 18).
In 2017, the NCI Agency briefed over 50 North American and European companies on over $817 million in air and missile defense business opportunities over the coming years, with projected requirements possibly increasing over that estimate. The opportunities were said to be part of a major technology refresh planned in NATO's Air and Missile Defense Command and Control Program (Defense Daily, Nov. 13, 2017).