Lockheed Martin [LMT] has received a full-rate production order with a ceiling value of $3.3 billion from the Army for its AN/TPQ-53 radar systems, the Pentagon said Thursday.
The new Q-53 radar contract also includes "deployment to various foreign military sales countries," according to the Pentagon.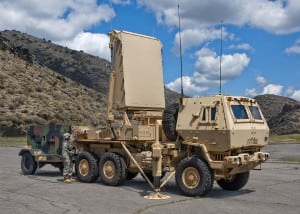 Work on the latest full-rate production deal is expected to be completed by the end of March 2027.
In 2019, the Army awarded Lockheed Martin a new contract to deliver 15 Q-53s as well as a separate deal to enhance the radar's counter-UAS capability with the ability to deliver "simultaneous counterfire, CUAS and air surveillance" (Defense Daily, Aug. 5, 2019).
Lockheed Martin also received a deal around that time to extend the radar's operating range using "next-generation technology insertions already available in the radar"
The Army first fielded the Q-53 in 2010 and has used the advanced electronically-scanned array (AESA) radar, which can operate in 90- or 360-degree modes, to protect troops in combat by detecting and tracking enemy indirect fire threats such as artillery, mortars, or rockets.