Lockheed Martin [LMT] has received a new $1.1 billion order from the Army for the production of more than 9,000 Guided Multiple Launch Rocket Systems (GMLRS) and 2,000 practice rockets.
The new contract arrives after the company completed the second successful flight test of the new Extended Range GMLRS (ER-GMLRS) on March 25, reaching a range of over 135 kilometers.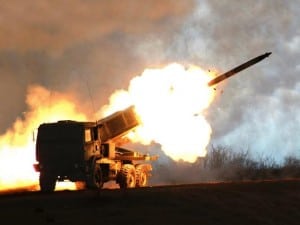 "GMLRS remains in high demand because it's the right round for multiple types of missions. Our focus remains on producing the combat-proven, cost-effective GMLRS to meet our customers' needs," Gaylia Campbell, vice president of Precision Fires and Combat Maneuver Systems at Lockheed Martin Missiles and Fire Control, said in a statement.
The latest GMLRS deal is the Lot 16 production award for both the unitary and alternative-warhead rockets, to include deliveries to the Army, Marine Corps and international customers, with work expected to be completed by September 2023.
Last week, the Army also awarded Lockheed Martin a potential $2.7 billion deal for GMLRS support work, to include new rocket pods and cyber security services (Defense Daily, March 26).
The recent test of ER-GMLRS at White Sands Missile Range in New Mexico was the farthest shot to date of the new version of the rocket, following the successful test in early March where it was fired out to 80 kilometers (Defense Daily, March 4).
"ER GMLRS will restore key battlespace advantage offering commanders flexibility and increased launcher survivability with greater standoff range," Campbell said.
Lockheed Martin has said previously ER-GMLRS is expected to reach ranges above 150 kilometers, doubling the capability of the current rocket.
In February, the State Department approved a potential $91.2 million deal with Finland for ER-GMLRS munitions (Defense Daily, Feb. 17).