The Army's new acquisition executive said Thursday it's unlikely the service will spend the maximum $22 billion allowed under its current production contract for the Integrated Visual Augmentation System (IVAS) headset.
"I don't think we're going to spend that much. So understand, that contract is an IDIQ contract. That's the ceiling, that's if we hypothetically got everything that was allowed in the contract. But that contract is actually quite sophisticated in that it gives us points along the way where we can adjust what we're buying in cooperation with the vendor," Doug Bush, the assistant secretary of the Army for acquisition, logistics and technology, told reporters. "There is no plan to buy $22 billion of the version that's being tested right now."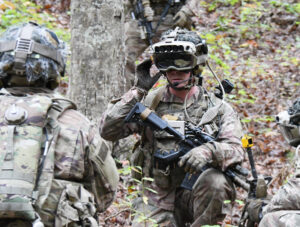 Last March, the Army awarded Microsoft [MSFT] a deal worth up to $21.9 billion over the next 10 years to move the IVAS program from rapid prototyping into production (Defense Daily, March 31 2021).
However, the Army decided in October to delay the operational evaluation for IVAS to this May and push the first unit equipped date to September, with officials acknowledging an issue with the system's waveguide technology was causing resolution issues (Defense Daily, Oct. 14).
"I'm confident in [IVAS'] success. We have the operational test coming up in May. I think the decision to pause it and improve it before we went to that, I was involved in that, I think that was the right call," Bush said Thursday. "It might get bumpy in places. New technology often gets bumpy in places. I think with prototypes sometimes you're going to find it leads you to a first version of something that isn't all exactly what you hoped but it lays the groundwork for something better in the future, as well, as we build new versions of things."
Bush cited a point that Gen. James McConville, the Army chief of staff, has said before that the current version of IVAS, with challenges that still need to be worked out, provides a higher level of capability than current headset systems out in the field now.
"I think the chief of staff has talked about this. The Alpha-model of a Black Hawk is very different from what we're building today. That's okay, because the Alpha-model is still way better than the UH-1 that it replaced. So that's another thing, thinking of capabilities in terms of, 'It's not perfect, but it's better for soldiers than what they have.' That's an important distinction that we try to analyze," Bush said.
In response to a question on the Army's reasoning for including about a billion dollars for IVAS procurement in its fiscal year 2022 budget request before operational testing had occurred, Bush said the level of funding "was perhaps a little optimistic."
"When that budget was formulated, where that program was, it was anticipating success and we'd be able to ramp up quickly and get that funding on contract. That was built into the request. Reality occurs and things happen after the request goes to Congress. As you know, Congress has asked a lot of questions and is going oversight on that, as they should," Bush said. "It was perhaps a little optimistic. But at the same time, it reflected an importance of focusing on equipment for individual soldiers."
Last week, Army Secretary Christine Wormuth said IVAS is "alive and well" despite the program delay and as the service works to fix problems in the first "alpha" version of the system (Defense Daily, Feb. 8).