The Army has awarded Microsoft [MSFT] a deal worth up to $21.9 billion over the next 10 years to move the Integrated Visual Augmentation System (IVAS) program from rapid prototyping into production, the service said Wednesday.
The production agreement for the Army's future augmented reality headset, officially awarded on March 26, includes a five-year base period and five-year option and arrives following a series of extensive soldier touchpoint events to inform the final design.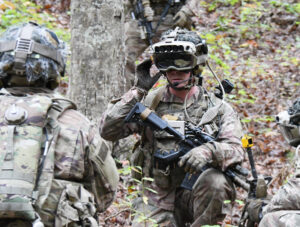 "The Army's partnership with Microsoft redefined the timeline for rapid development and production of a major defense program by taking advantage of the Middle Tier of Acquisition and Other Transaction authorities, and partnering with a non-traditional defense contractor that is an industry leader in developing innovative technology," the Army's Program Executive Office-Soldier wrote in a statement.
Lawmakers have previously pressed the Army on its "aggressive fielding schedule" for IVAS headsets, with the fiscal year 2021 defense appropriations bill including a $235.6 million reduction to the program (Defense Daily, Dec. 22).
Microsoft originally received a $480 million deal in 2018 to develop IVAS prototypes, which is based on the company's HoloLens 2 headset.
"The IVAS headset, based on HoloLens and augmented by Microsoft Azure cloud services, delivers a platform that will keep Soldiers safer and make them more effective. The program delivers enhanced situational awareness, enabling information sharing and decision-making in a variety of scenarios. Microsoft has worked closely with the U.S. Army over the past two years, and together we pioneered soldier-centered design to enable rapid prototyping for a product to provide Soldiers with the tools and capabilities necessary to achieve their mission," Microsoft wrote in a statement.