The Army's new deals to Bell [TXT] and a Sikorsky [LMT]-Boeing [BA] team for the next phase of Future Long Range Assault Aircraft (FLRAA) competitive demonstration and risk reduction (CD&RR) effort will allow for an accelerated Milestone B decision as both offerors work on completing preliminary design reviews, a lead official said Wednesday.
Col. David Phillips, project manager for FLRAA, told reporters the CD&RR Phase II effort will work in parallel with the ongoing source selection effort for aircraft production, with a final Request for Proposals expected this summer and an award slated for late FY '22.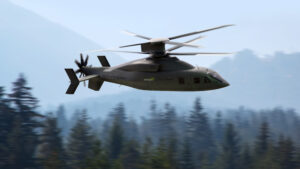 "We still have a lot of work to do as we head toward Milestone B, but I think this is exactly the foundational footing that we need to lay at this point in the program to be successful," Phillips said. "It truly allowed us to move the design work to the left into some of this competitive demo and risk reduction effort, and that helps the Army make better decisions as we get toward Milestone B for that final configuration that we will start to build once we make that Milestone B decision."
The Army said Tuesday it awarded contract modifications, each worth nearly $300 million, to move Bell's V-280 Valor tiltrotor aircraft and a Sikorsky-Boeing's Defiant X into the FLRAA CD&RR Phase II (Defense Daily, March 30).
This next phase will include completing both air vehicle and weapons systems preliminary design reviews and analyzing requirements for specific Special Operations Command, MEDEVAC and Defense Exportability features to inform a Milestone B decision, which is a critical design step required before moving to production.
"We'll have a year-long process where we'll be looking at industry's proposals while we're completing the preliminary designs to the subsystem level with the vendors," Phillips said. "That allows us to look at where Milestone B is, where the prototype aircraft are on our schedule and really try to move that to the left."
Phillips said Phase II will also include a focus on working with each of the offerors on their subsystem designs and plans for selecting suppliers to manufacture those capabilities.
"There will be a lot of that effort going on for the next year where industry will be out selecting those suppliers and we will continue to work with both [offerors] in that effort to ensure that we have a voice in that discussion on the government side," Phillips said.
Flight test activities over the course of CD&RR Phase II will also look at how each of the offerings have progressed on their advanced flight control systems, according to Phillips.
"We believe they've made significant advancements in those advanced flight controls in the past three years since they've been in flight. And we're going to continue to see some advancements there, whether it's at low speed for handling qualities or high speed, up and away, for handling qualities and for vibration control on those aircraft," Phillips said.