Army soldiers are currently working through the second hands-on evaluation of the service's future augmented reality headset, being developed by Microsoft [MSFT], with the latest event focused on putting the capability through a more rigorous training environment.
Officials said representatives from Microsoft are onsite at Fort Pickett in Virginia for the latest Integrated Visual Augmentation System (IVAS) soldier touchpoint (STP), with the company making daily adjustments to the prototype goggles based on user feedback.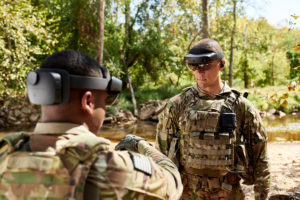 "STPs allow industry partners to field test system prototypes repeatedly throughout the research and development process to ensure the final product, in this case the multi-functional IVAS goggle, is met with enthusiasm and truly useful when its fielded to the force," Army officials said in a statement. "The object is to make sure the warfighter drives the design and development based on need and utility."
Last fall, the Army awarded Microsoft a $480 million deal to develop IVAS prototypes, which are based on the company's HoloLens 2 headset. The Army is planning to begin fielding IVAS to the force at the end of fiscal year 2021.
"IVAS is billed as a fight-rehearse-train system, meaning its function on the battlefield is priority, but its augmented reality capabilities, like real-time mapping, will make it useful for training and rehearsing operations anywhere at any time," the Army wrote.
Soldiers at Fort Pickett are currently halfway through the second prototype evaluation with IVAS, with the Army noting that Microsoft has been able to collect over 3,200 hours of user experience to inform feedback.
"The STP underway today at Pickett, the second of four STPs in the 24-month development schedule, is a tougher test designed to assess new capabilities at the platoon level and increase demands on the system in more complex training environments," Army officials said in a statement.
The first soldier touchpoint took place in the spring, which was focused on proving out IVAS' concept and potential utilities.
Army officials said the next evaluation event will happen next summer with the latest iteration of IVAS, an all-weather, ruggedized, form-fitting version of the headset. The fourth and final soldier touchpoint is planned for 2021.