The House Armed Services Committee's fiscal year 2021 defense authorization bill calls for reducing funding for the Army's future augmented reality headset by $230 million to adjust for operational test delays and plans to purchase fewer units.
HASC's full markup authorizes $897 million for the Integrated Visual Augmentation System (IVAS), being developed by Microsoft [MSFT], below the Army's request for over $1.1 billion.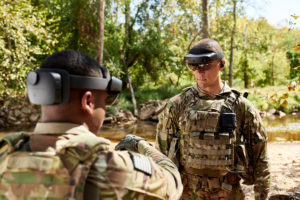 "It's a very aggressive schedule. And the operational testing of the system has been delayed. The delivery of ruggedized versions of the headset are just now getting started. And with the delays with the operational test, we don't have the confidence we need at this moment, from an oversight perspective, on going forward with a $900 million procurement beginning in FY '21," committee aides told reporters on Thursday.
Army officials told reporters in April the next soldier evaluation for IVAS, the first with the ruggedized version of the headsets, was delayed from this summer to October due to the pandemic, while the service expects to meet its goal of a first unit equipped date in late FY '21 (Defense Daily, April 22).
Committee aides also said the Army had miscalculated the per unit cost for IVAS, and would only be able to purchase around 29,000 headsets with the requested funding rather than the original estimate of 40,000 units.
"The reduction is intended to smooth out the procurement of those items over time and allow for confidence that soldiers are actually going to wear these in combat," committee aides said.
The House Armed Services Tactical Air and Land Forces Subcommittee in its mark also called for a briefing to understand how the service plans to scale IVAS across its major platforms (Defense Daily, June 23).